On Sunday the 31st July the Stand4Uyghurs coalition of over 100 grassroots Muslim organisations nationally and globally will (inshā'Allāh) be rallying outside Chinese embassies and consulates in multiple cities to stand in solidarity with Uyghurs and other groups facing genocide in occupied East Turkestan.
Late last year, the People's Uyghur Tribunal in London, chaired by Sir Geoffrey Nice QC, lead prosecutor of the former Serbian president Slobodan Milosevic, concluded that the Chinese government is committing a genocide against Uyghurs [1].
Communities will be mobilising nationally in London, Manchester, Edinburgh and globally in Washington DC, Toronto CA, Istanbul TR, Johannesburg SA, Auckland NZ, and Sydney, Brisbane and Melbourne AUS, inshāAllāh. 
The diverse coalition consists of major regional mosques such as East London Mosque (est. 1982), Green Lane Masjid in Birmingham (est. 1970s), representative bodies such as Waltham Forest Council of Mosques (WFCOM), Muslim Association of Britain and Muslim Council of Wales, student organisations such as the Federation of Students' Islamic Societies – FOSIS (est. 1963), as well as scholarly bodies such as Wifaqul Ulama and Islamic Council of Europe, thinktanks such as The Cordoba Foundation, media organisations such as 5Pillars News and ilmfeed, advocacy groups such as CAGE, Grant Liberty, MPACUK and Mend, and professional bodies such as the Association of Muslim Lawyers. Also involved are Uyghur diaspora groups, including Campaign for Uyghurs and the International Union of East Turkestan Organizations. (A full list of UK-based coalition partners is in the notes below.)
They will be calling out the Chinese Government to end their religious and cultural persecution of Uyghurs and other ethnic Muslims and 'Stop The Genocide Now'.
National Demonstration Locations on Sunday 31st July: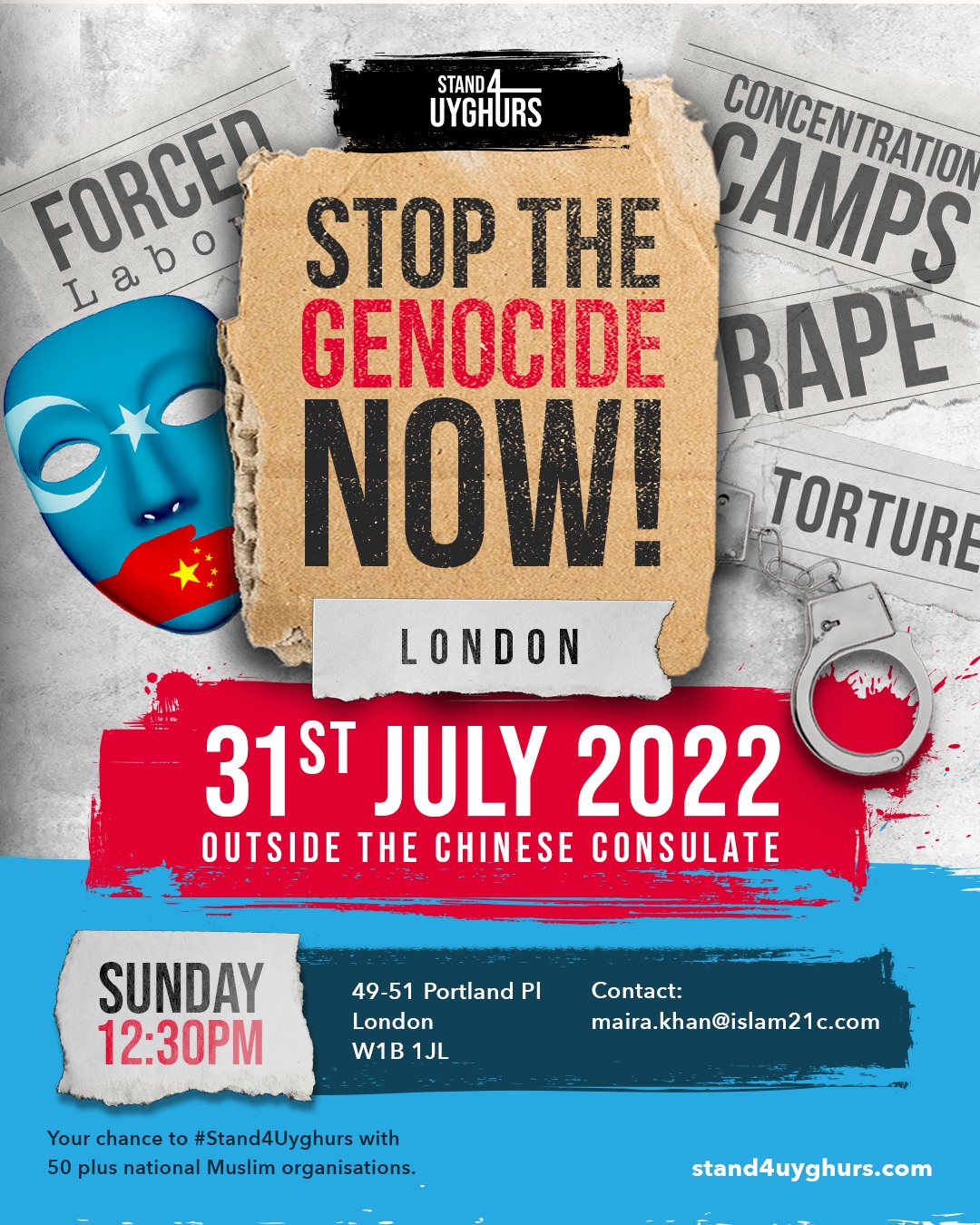 London:
12:30pm
Chinese Embassy
49-51 Portland Pl, London W1B 1JL
Manchester:
2pm
Chinese Consulate
71 Denison Road, Manchester, M14 5RX
Edinburgh
2pm
Chinese Consulate
55 Corstorphine Rd, Edinburgh EH12 5QG
International demonstration details can be found at stand4uyghurs.com
Members of the coalition made the following statements:
Abduresid Eminhaci, ethnic Uyghur residing in Turkey and activist at the International Union of East Turkistan Organizations and S4U representative in Istanbul, Turkiye:
"As it is an already known fact for all, the East Turkistani people including Uyghurs, Kazaks, Kyrgyz, and other ethnic groups are enduring genocide and other crimes against humanity by the Chinese authority. East Turkistani people are suffering from assimilation, massacre, genocide, and other human rights violations for more than 70 years under Chinese autocracy. Islamophobia and racism are the ideological roots of the genocide which is taking place in East Turkistan. Concentration camps, Islam ban, and demographic change are the main methods of genocide. China is doing that, it is going to secure the new silk road, the global economic project, and East Turkistan is its starting point. In this manner, forced labour is an important base of the project and genocide.

We call on all Muslim and non-Muslim communities who respect humanity and justice to gather and come together to stand against China and its genocide, boycott forced labour productions, condemn Chinese crimes, urge others, and de-legitimize China on the international stage. We call on governments and international human rights organizations to bring out the emergency acts to stop genocide."
Arslan Hidayat, ethnic Uyghur and activist, Project Manager at Campaign for Uyghurs and Stand4Uyghurs representative in Washington DC, USA:
"There has been very little to no "Muslim" advocacy when it comes to the Uyghur genocide, therefore the Stand4Uyghurs campaign at least provides a starting point for Muslims wanting to get involved in raising awareness about the Uyghur Muslims' plight. Western advocacy for the Uyghurs has had a positive but also an almost equal negative effect. China uses the lack of Muslim voices for the Uyghurs as a reason/excuse to propagate the reality of the Uyghur genocide, saying, if human rights violations did exist then why aren't Muslims up in arms about it".
Moazzam Begg, former Guantanamo Bay detainee and outreach director at CAGE:
"Few would consider China an active participant in the US-led War on Terror. After all, it's supposed to be a bastion of "anti-imperialism" and viewed with suspicion by the West. However, China's has its own "People's War on Terror" and its targets are the Muslim Uyghurs of East Turkestan.

In truth, China's version of Islamophobia against the Uyghurs is far worse because it's carried out on an industrial scale.

Over a million Uyghurs have been placed in "re-education" camps in the name of preventing terrorism. There are numerous allegations of systematic rape, torture and extrajudicial killing at these centres. Meanwhile, their children are sent to orphanages called "welfare centres" where they learn Mandarin language and Chinese values in place of their own.

China has used the language of the US War on Terror as cover for its atrocities against the Uyghurs. That is why CAGE and I have joined the struggle to Stand4Uyghurs. We hope you will too."
Linsay Taylor, Scotland Regional Manager at MEND:
"MEND will be joining a range of organisations and individuals to Stand4Uyghurs on the 31st of July around the UK. Standing in solidarity with Uyghur Muslims against the brutality of the systematic Islamophobia, persecution, detention, torture and death that they face in their home country of Chinese-occupied East Turkestan. We must all come together to bring an end to such horrendous acts of hate that are being carried out by the Chines authorities.

It is important that all stand against hate no matter where it occurs. We must all raise our voices and say enough is enough. That is why MEND encourage all to join in the rallies around the UK to Stand4Uyghurs on the 31st."
Dr Salman Butt, Chief Editor at Islam21c:
"The Uyghurs asked us to stand with them on this day and that's what we're doing. We have been pleasantly surprised with the outpouring of support from so many diverse organisations and people wanting to stand in solidarity with the Uyghurs and other oppressed groups—and this has given the Uyghurs that we know a much needed and overdue boost in moral support.

When I went to visit some Uyghur leaders and organisations it was embarrassing for me how well they treated us – they were extremely grateful for what little we have done so far for their plight. They have been told by their tormentors for decades that the Muslims don't care about them, that Islam is a foreign disease they should abandon. If we have an opportunity to give solidarity and moral support to just one of the millions of suffering brothers and sisters that is reason enough."
Dilly Hussain, Journalist and Broadcaster at 5Pillars News:
"China's persecution of Uyghur Muslims and the occupation of its lands is a matter that has increasingly become present in the minds of millions of Muslims around the world.

The life and honour of Uyghur Muslims is no different to the life and honour of Palestinians, Kashmiris, Rohingya, Syrians, Afghans and Yemenis.

If the silence of Muslim majority governments has been bought by Chinese investments, then the world, especially China, should know that Muslims around the world will stand in solidarity with their Uyghur brethren until genocide and injustice ends."
Raghad Altikriti, Muslim Association of Britain Chair:
"The Muslim Association of Britain will be standing in solidarity with our Uyghur brothers and sisters, outside the Chinese embassy, demanding an end to China's genocide campaign.

We will be standing to say, that despite the efforts of the CCP to erase the culture, the religion, and the people of the Uyghurs, they have failed. We will not stop demanding accountability for the Urumchi massacre or the million Uyghurs locked up in China's concentration camps."
Anas Altikriti, CEO and Founder of The Cordoba Foundation:
"There have been many positive statements issued condemning the gross breaches committed by China against the people of East Turkistan, but virtually none of those statements have been followed up with real steps to curtail and punish the culprits of this monumental crime. We continue to see the world trading with Beijing and open borders to Chinese expansionist projects, with human rights continuing to take second place after trade and commercial interests. This must stop, and it must stop immediately.

The lives and human rights of the Uyghurs must take precedence and this act of genocide unfolding daily before the eyes of the world, brought to an end."
Ibteeda Masud, Stand4Uyghurs Sydney Australia Representative:
"Our hearts have been burning silently as we hear about the oppression of our Uyghur brothers and sisters every day, praying for some change. We refuse to sit idly by any longer as their cries become louder and louder. JazakAllahu khayr to Stand4Uyghurs UK who took the initiative, inspiring hearts all over Australia to take a firm, unwavering stand.

I hope that the cohesion of our communities will send a very clear message to the CCP that this will not be tolerated. Wherever they try to go, they will hear our cries. Wherever they may seek empathy for their oppressive regime, they will receive nothing but utter rejection.

Raise your voices! Scream until our brothers and sisters hear us and know we haven't abandoned them. Scream until the oppressors cannot hear themselves think. And in Allah we place all of our trust and hope."
For more information email Stand4Uyghurs Campaign Coordinator: [email protected]
Website: stand4uyghurs.com
---
Notes:
[1] https://uyghurtribunal.com/wp-content/uploads/2021/12/UT-judgment-version-for-approval-by-GN-07.25-2.pdf
List of UK coalition partners:
5 Pillars
Al-Ansar Mosque
Al-Ma'rifah Foundation
Almanar Centre Cardiff
As-Suffa Institute
Association
Association of Muslim lawyers
Bracknell Islamic Cultural Centre
British Muslim Heritage Centre
CAGE
Cheadle Muslim Association
Deen Riders
DOAM
East London Mosque & London Muslim Centre
Edinburgh Turkish cultural association
Eman Channel
Finsbury Park Mosque
FOSIS
FOSIS London
Friends of Al-Aqsa
Girlington Muslim Welfare
Grant Liberty
Green Lane Masjid
Human Aid
ilmfeed
Inspire Radio
Islam21c
Islamic Council of Europe
Islamic Network
Islamic tarbiyah academy
Karima Foundation
Lewisham Islamic Centre
Lighthouse Advocacy
Markaz al-ifta wa'l-qada
MEND
MPACUK
MRDF
Muslim Association of Britain
Muslim Council of Wales (MCW)
Muslim Youth Network
Myriad Foundation
Norbury Muslim Centre
Peace Centre
Purley Masjid
Sabeel
The Cordoba Foundation
Tower Hamlets Mosques
UCL ISoc
Waltham Forest Council of Mosques
West London Islamic Centre
West London Islamic Cultural Centre
Witton Islamic Centre
Wycombe Islamic Society
Yaseen Youth Tours
Zein Foundation
Maira Khan is a UCL Psychology graduate who also holds a postgraduate degree in Health Psychology. She has been involved in many community-based projects, volunteering with Lighthouse Advocacy and is currently the Campaigns Coordinator for Islam21c. Maira aspires to become a researcher and intends to make a contribution to the field of international relations by shedding light on international complicity towards injustices globally.