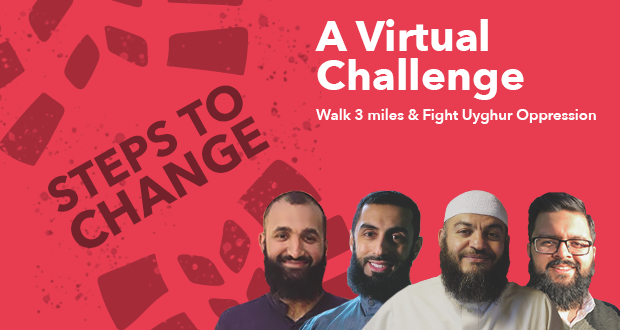 Uyghurs – who has the ability to take steps towards fighting their oppression?
You do. By championing the rights of the oppressed with Islam21c.
Join Dr Salman Butt, Sh Ali Hammuda, Sh Haitham al Haddad, and Subboor Ahmad in pledging to fight the oppression of our Ummah by taking Steps to Change – a virtual 3 mile walk, fundraising to deliver Islam21c's vital impact campaigns, tackling Uyghur oppression.
Islam21c has been working with leading Uyghur activists and discovered some key angles for helping our Uyghur brothers and sisters. For example, many UK Universities are dealing with Chinese companies complicit in oppressing Uyghurs, supplying them the technology and expertise needed to discriminate against them. By Allah's permission we can pressure them to stop and divest, that's why Islam21c has committed to delivering a nationwide campaign to do that and more.
With your support and donations, Islam21c aims to run multiple Uyghur campaigns over the year InshaAllah. Our first will create, train and direct a Uyghur task force of activists to lobby key decision-makers at UK universities pressuring them to divest from companies actively engaged in Uyghur oppression. We will also run a national awareness campaign to try and get the story covered in the mainstream media InshaAllah.
By joining us and striving with your actions and your wealth, you'll be receiving the reward for our campaign reaching the eyes and ears of decision-makers, from politicians, academics, scholars and business leaders – who can take steps to relieve the oppression of our Uyghur brothers and sisters.
On the authority of Abu Sa`eed al-Khudree (may Allah be pleased with him) who said:
I heard the Messenger of Allah (ﷺ) say, "Whosoever of you sees an evil, let him change it with his hand; and if he is not able to do so, then [let him change it] with his tongue; and if he is not able to do so, then with his heart — and that is the weakest of faith."
[Muslim: Hadith 34, 40 Hadith an-Nawawi]
This is not a time to feel helpless, this is an opportunity to stand firm in the face of adversity and help those who are in dire need. Equipped with Islamic solutions from the Quran and Prophetic teachings – it is obligatory upon us to change the evils we witness if we have the ability to do so. Together we are able to achieve A LOT by the grace of Allah.
Remember by taking part in this challenge, all funds raised are Sadaqah Jariyah.
Take steps to relieve the oppression of our Uyghur brothers and sisters by registering now and encourage your loved ones to participate by registering too.
Register Now