[CLICK ABOVE TO WATCH EVENT VIDEO]
Islam21C needs your help to continue its work and grow stronger. Share in the reward of Islam21C by donating here
Over the last few days many have been sharing images and quotes from Islam21c's first annual dinner since its inception in 2006. The dinner took place on Saturday 30th March at the prestigious Royal Nawaab, London, and Alhamdulillāh, it was a night to remember.
It was a packed crowd of 440 brothers and sisters, including over 30 VIP guests attending made up of scholars, activists and leading heads of organisations in the Dawah today. We also found supporters attending who had travelled all the way from Birmingham, Derby, Manchester and even Germany subhanAllah. Many Muslims left feeling empowered by the vision, achievements and plans of Islam21c.
---
---
The night began with our Chief Editor, Dr Salman Butt, opening the event. He introduced the first speaker of the night, Sh Dr Haitham al-Haddad, who addressed the simple yet impactful topic: 'Why Islam21c?'
Following this, came our first award for distinguished 'Prolific Writer'. Sh Ali Hammuda was given the award in recognition for the number of articles published on Islam21c.
Other nominees for this award included: Sh Abu Haneefa Sohail, Sh Asif Uddin, Sh Abu Rumaysah Refi Shafi, Sh Sajid Umar, Sh Haitham al-Haddad, Sh Farid Haibatan, Sh Alomgir Ali and Sh Asim Khan. May Allāh accept from them all. Āmīn.
Sticking with our influential line-up, Sh Zahir Mahmood motivated the audience with his talk, "Think: Victorious", reminding and urging us all to form a bond with Allāh, before Dr Uthman Lateef spoke about "The Power of the Pen", on the importance of narratives and discourses.
Our next award was for the 'Community Activism Award'. Dr Asim Qureshi won this award for his commitment to championing crucial issues on Islam21c year after year.
Other nominees for this award included: Laura Stuart, Yusuf Patel, Hamza Tzortzis, Yasmin Khatun, and Ahmed Hammuda.
Here at Islam21c, our writers and contributors are not only made up of scholars and public figures. We also have people working hard out of the spotlight. The 'Active Mum' award, about combining the two noble pursuits of motherhood and Daʿwah through Islam21c, was awarded to Laura Stuart.
Other nominees for this award included: Ayshah Syed, Yasmin Khatun, Ameera Farooq, Fatima Barkatullah, Uzma Aslam and Naija Islam Ali.
Another event highlight was an exclusive product launch of our new print magazine. 300 copies of our first ever magazine were printed exclusively for this event Alhamdulillah. Over 200 hours were spent by our team making this first edition and we decided to print the first official copy in time for the event. All attendees were the first and only to have a copy and gave very positive feedback. We aim to launch it publicly very soon and have started working on a Ramadan edition inshAllah,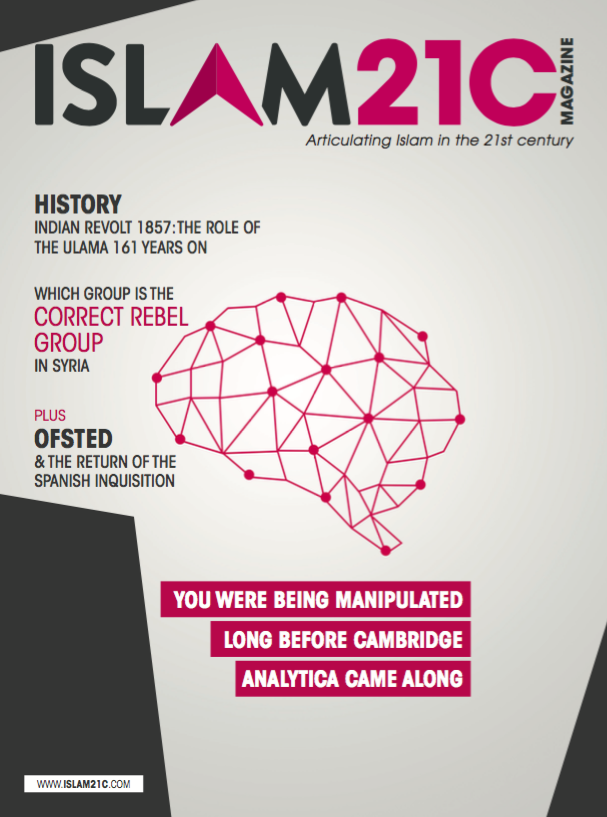 The event was bolstered through some light-hearted entertainment, where Dr Salman Butt crowned Ahmed Hammuda as Islam21c's 'Husband of the Year'.
He then consolidated the evening's talks with a reminder about the role of Islam in the 21st century.
The night came to an end with the 'Courageous Article Award', which was dedicated to the author who was committed to addressing controversial and sensitive topics on Islam21C. The winner was Sh Dr Haitham Al-Haddad, the other nominee being Sh Sajid Umar.
We offer our sincerest apologies to those people on the waiting list who couldn't attend. Inshā'Allāh, next year will be bigger.
Click above to watch and share the recording if you haven't already, or watch it on YouTube here.
Until next year, we're back online.
Islam21C needs your help to continue its' work and grow stronger. Share in the reward of Islam21C by donating here
---
Source: www.islam21c.com
Notes: