Buy your exclusive stand4uyghurs t-shirt now!
Hurry while stocks last. When they're gone, they're gone! Click here to buy yours.
Click here to join the campaign.
---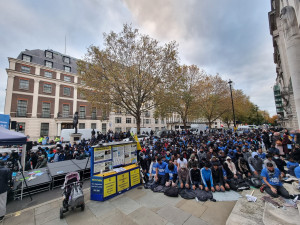 ---
---
Thousands of Muslims – in addition to people of different faith groups – congregated in the British capital city of London on Saturday, alongside further hundreds in Manchester. The unified aim of these mass protests was to apply pressure to China's authoritarian rulers concerning the ongoing Uyghur oppression. Under the leadership of Islam21c, the Stand4Uyghurs demonstrations turned the streets blue, as people gathered from all walks of life. Attendees included representatives of the Sikh community, the Socialist Workers Party, in addition to numerous British Muslim speakers and delegates from over fifty organisations. Of particular note was the presence of Shaykh Abdul Kareem, a Uyghur scholar hailing from none other than East Turkestan. [1]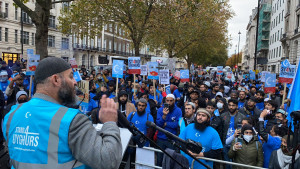 In an electrifying atmosphere, a barrage of speakers delivered oratory blows to the Chinese Communist Party (CCP), demanding that the genocide of the Uyghurs in East Turkestan come to an end. Such was the reaction at the site of the London demonstration – which took place in front of the Chinese embassy in Marylebone – the national flag had been removed from view before the protest got underway. One of the event's orators, the respected public speaker and debater on political philosophy and comparative religion, Mohammed Hijab, dramatically threw his Stand4Uyghurs t-shirt towards the embassy in a symbolic gesture. By doing so, Hijab sought to provide the embassy with a new flag – one of blue and white, with the crescent moon and five-pointed star of East Turkestan. In emotional scenes during the cold yet rainless day, a visibly upset Shaykh Abdul Kareem of the Uyghurs embraced Mohammed Hijab and gave him his own jacket and hat. The pair shared a warm hug, as the crowd showed their respect and support to both men.
Amid cries of takbīr and chants of "show the Uyghurs who we are, lā ilāha illa Allāh!", Chief Editor of Islam21c Dr. Salman Butt and public speaker and debater Subboor Ahmed maintained a spirited level of engagement, as crowds stretched back to the junction with Devonshire Street. Amongst the speakers of the day was the respected Shaykh Suliman Ghani of South London. The Shaykh had come dressed for the occasion by donning a special coat of Turkic heritage.
The Shaykh began his speech by informing the attendees:
"All praise is due to Allah ta'ala, our Nourisher, our Sustainer, our Creator. Today, as we stand here – standing for the Uyghurs, freedom for the Uyghurs – I remind to you that on the Day of Yawm al-Qiyamah (the Day of Judgment), this land and this location and this place that you are standing upon will bear testimony that on such and such a day, you did such and such action. Your standing here is very significant. You are the ones that are making the difference. You are the ones that have come together in your thousands to show solidarity and support for our Uyghur Muslims in East Turkestan." [1]
Shaykh Suliman Ghani thereafter gave an impassioned speech, in which he made comparisons between the present tragic situation of the Uyghurs and the past (and recent) appalling situation of the Bosniaks. Indeed, Bosnian Muslims had suffered a horrific genocide in the mid 1990s. Most appallingly, over 8,000 Muslim men and boys were butchered in a span of eleven days, from 11 to 22 July 1995. During these horrific days, Serbian troops under the command of General Ratko Mladic had led a charge to Srebrenica. The massacre was recognised by then UN Secretary-General Kofi Annan as "a terrible crime – the worst on European soil since the Second World War". [2] [3]
Shaykh Suliman told the estimated 5,000-strong crowd:
"I remind you that having returned only recently from Bosnia Herzegovina, having visited Srebrenica and the memorial ground, it is a clear reminder that a people only twenty-five years ago, they suffered a genocide. And what we are witnessing in East Turkestan, the Muslims, the Uyghur Muslims, they are facing a type of a genocide." [1]
Earlier in the day, British-Bangladeshi Imam Ajmal Masroor gave a riveting speech, in which he shone the spotlight squarely on the systematic rape of Uyghur women in East Turkestan. While gesturing towards the embassy building, Masroor repeatedly chanted, "Shame on you!" During various periods of the day, embassy workers were noted to be observing the protest from the roof of the building, in addition to staff members peering out from behind curtains on different floors.
Imam Ajmal emphatically stated to fellow demonstrators:
"One thing that has been missed from our conversations is that of our sisters' plight in Uyghur communities in prison. I don't know whether you know, but the Chinese government and their security services have used rape as a means to destroy and denigrate our sisters on a regular basis.

"Brothers and sisters, we have reports of many of our sisters, who have been raped in those concentration camps, by Chinese men. Not just one man, but gang raped on a regular basis. And it is a disgrace that we stand here and the world stays silent while our sisters are being raped systematically by the Chinese government. And the Chinese government tells the world nothing is happening? Shame on China, shame on the Chinese government!" [1]
Other esteemed speakers at the protest included Dr. Shaykh Haitham al-Haddad of Islam21c and the Islamic Council of Europe, as well as Dr. Mufti Abdur-Rahman Mangera, the founder of Zamzam Academy and dean of Whitethread Institute for Postgraduate Studies; and Dr. Uthman Lateef, a prolific speaker on Islamic history, international relations, and on the Crusades.
Also in attendance was Maulana Yunus Dudhwala, the founder of Askimam.com and Head of Chaplaincy and Bereavement Services to Barts Health NHS Trust; the popular social media and YouTube personality Ali Dawah, in addition to Weyman Bennett of the Socialist Workers Party; Moazzam Begg, the former Guantanamo Bay and Bagram prisoner, and now Outreach Director at human rights advocacy organisation CAGE; Shaker Aamer, fellow former Guantanamo Bay detainee of thirteen years; Jordan M, a veteran Uyghur rights campaigner who has faced social media bans, simply due to speaking up for the Uyghurs; and Khattab the Poet. All of these prominent figures delivered powerful messages to the embassy, CCP, Uyghur community, and the gathering. Khattab delivered a moving piece of spoken word, while Aisha Rosalie, a revert and YouTube personality with over 200,000 subscribers, shared her perspective on the ongoing Uyghur oppression. Ikram from the Lighthouse Initiative – a student group involved in Uyghur activism on the university scene – and Zeeshan Ali from Smile2Jannah also gave heartfelt messages towards the tail end of the demonstration.
The Stand4Uyghurs protest, which was livestreamed by Eman Channel, began promptly at 12:30 pm. The Ẓuhr prayer was performed in congregation with Shaykh Haitham al-Haddad leading, who would also serve as Imam for the subsequent ʿAṣr and Maghrib prayers. Dr. Salman Butt made a poignant observation when asking attendees to join prayers, since these are the same prayers that the CCP bans Uyghur and other Turkic Muslims from performing. It is widely evidenced that China has destroyed tens of thousands of mosques in East Turkestan. Thus, by performing prayers on the packed streets, a clear message of solidarity was delivered to the Chinese ruling party's lackeys in the London embassy and Manchester consulate. Moreover, in the same spirit, a moving recitation of the Qur'an was also delivered. Dr. Butt described the powerful moment with the reflection that "the book that they have tried to ban in East Turkestan – we are reciting it loud and clear, in shā' Allāh, echoing their [the embassy's] corridors". [1] [4]
Shaker Aamer, himself having experienced torture and false detention at the hands of the US for close to two decades without charge or trial, entered the stage teary-eyed. Aamer, who is now a champion for Uyghur rights, was introduced by close friend Moazzam Begg. Aamer began his speech by telling the crowd:
"Wallahi, brothers and sisters, just thinking about what is happening to the Uyghurs brings tears to my eyes. You don't know; I'm very close to them, in many places in the world – especially in Turkey. And there are so many of them right now in Turkey – you know – they are suffering the consequences of what is happening in China. And I see these brothers daily; brothers who've lost their wives, their kids, their families, and they have no connection for years now.

"And as soon as I remember that, I just can't help but to cry, because I don't think anybody – and this is, wallahi, a true statement – I don't think there is anybody in the world right now, suffering more than the Uyghurs, no-one! I can't even tell you what they do. Sometimes you feel ashamed to tell people what they are doing to our brothers and sisters in Turkestan. That's the reality that the world doesn't want people to know." [1]
It wasn't just London where we took a #stand4uyghurs.

Our brothers and sisters echoed our cries in #Manchester. pic.twitter.com/JrUafiki04

— Islam21c (@Islam21c) November 14, 2021
---
Source: www.islam21c.com
Notes:
[1] https://www.youtube.com/watch?v=8EamNVTqkDQ
[2] https://news.un.org/en/story/2005/07/144502-un-officials-commemorate-10th-anniversary-srebrenica-massacre
[3] https://www.reuters.com/article/us-warcrimes-karadzic-bosnia-idUSL2164446420080721
[4] https://www.theguardian.com/world/2020/sep/25/thousands-of-xinjiang-mosques-destroyed-damaged-china-report-finds
Shaheer is a regular contributor for Islam21c. He maintains a strong interest in current affairs, as well as the changing global conditions of Muslim populations. Prior to joining Islam21c, he developed a number of years' experience in the health and social care sector and has previously volunteered at the Muslim Youth Helpline.