Far-right fanatic and convicted criminal Tommy Robinson was warmly embraced at a Zionist rally on Sunday. Draped in an Israeli flag, the extremist Robinson was cheered as he attended the rally outside the Israeli embassy.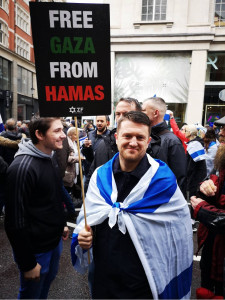 Approximately 1500 supporters were present at the pro-Israel rally, singing songs in Hebrew, waving the Israeli flag, and holding placards in support of the state of Israel.
Flanked by security detail, Tommy Robinson, notorious for his anti-Muslim views, was seen holding a placard reading "Free Gaza from Hamas". The placard was marked with the logo of the Zionist Federation, which organised Sunday's rally. Robinson walked among the cheering crowd, with his attendance further shining a light on the murky connections being forged between the far right and the Zionist lobby.
---
---
This man was cheered on by so many of the crowd.

And even Tommy Robinson – watch how he is hugged by one of the crowd..

This was a protest of only c.1500 people…

Yet this was what we saw. pic.twitter.com/pROHJypRMH

— Miqdaad Versi (@miqdaad) May 23, 2021
In a video from 2019, Tommy Robinson is seen saying:  "Palestine? F*ck Palestine! Why would you support Palestine?" adding, "If there was a war tomorrow, which probably there would be, I would be there in the front line fighting for Israel."[1]
At another event highlighting the concerning and puzzling alliance between the alt-right and Zionism, a former Israeli soldier who was a member of Robinson's campaign team addressed protestors by saying: "No matter what the left call us, I am the world's proudest Jewish Nazi."[2]
Other attendees at the rally included Israel ambassador Tzipi Hotovely, who has toured British media in an attempt to justify the killing of Palestinian children. Hotovely has previously courted controversy by calling the Nakba—in which 700,000 Palestinians were expelled from their homes in order to form the state of Israel in 1948—as a "very popular lie."[3] Hotovely was sharply criticised, including by Jewish organisations, for her endorsement of ethnic cleansing. Na'amond, a pro-Palestinian Jewish organisation, tweeted:
"We cannot allow Hotovely's views to be normalised in our community with invites to celebratory events."

"She is a racist who supports a single state where Palestinians don't have equal rights."[4]
Hotovely was appointed Israel's ambassador to the UK despite her opposition to interfaith marriage in Israel, and is a staunch opponent of a Palestinian state.[5] When her appointment was announced, sections of the Jewish community voiced their disapproval by calling on the UK Foreign Office to reject Hotovely's nomination:
"As British Jews we are clear: Tzipi Hotovely's values and politics have no place in the UK.[6]"
Zionist Federation's chairman Paul Charney, as well as President of the Board of Deputies, Marie van der Zyl, also spoke at the rally.
Signalling a potential turn in the tide of public opinion, an estimated 200,000 people attended a Palestine-solidarity march over the weekend calling on international governments to end Israeli apartheid and ensure that basic human rights are offered to the occupied and discriminated people of Palestine.
---
Source: www.islam21c.com
Notes:
[1] https://www.middleeastmonitor.com/20190215-far-right-tommy-robinson-declares-himself-a-zionist-in-leaked-video/
[2] https://www.middleeastmonitor.com/20180730-i-am-the-worlds-proudest-jewish-nazi-says-tommy-robinson-campaigner/
[3] https://www.middleeasteye.net/news/jewish-groups-condemn-appointment-settlement-supporter-israels-uk-ambassador
[4] https://www.middleeasteye.net/news/uk-israel-ambassador-jewish-group-nakba-slammed
[5] https://www.middleeasteye.net/news/uk-israel-ambassador-jewish-group-nakba-slammed
[6] https://www.middleeasteye.net/news/jewish-groups-condemn-appointment-settlement-supporter-israels-uk-ambassador