Innā lillāhi wa innā ilayhi rājiʿūn. Indeed, to Allāh we belong, and to Him we are returning.
On the 29th of Rajab, 1439 (the 14th of April) renowned scholar, Moulana Muhammad Salim Qasmi passed on to meet his Lord at the age of 92.[1]
The Sheikh was from a well-known scholarly family and one which the da'wah in the Indian Subcontinent benefitted from. Both his father and grandfather, Moulana Muhammad Tayyib, and Moulana Muhammad Ahmad served as the Rector of Darul Uloom Deoband. His great grandfather was Moulana Qasim Nanotvi, the founder of Darul Uloom Deoband. We ask Allāh to have mercy on them all and accept them together into the highest levels of Jannah without any accountability. Amīn.
The Sheikh studied under a number of scholars including Moulana Husain Ahmad Madani and was the last surviving student of Moulana Ashraf Ali Thanwi. In addition to being a committed student, teacher and caller to Islam, he served in a number of different organisations; he was the administrator of Darul Uloom Waqf Deoband since 1982 and then later became the 'Chief Rector' on 3rd Sep 2014.[2] The Sheikh was also the Vice President of the All India Muslim Personal Law Board, the President of the advisory board of the renowned Islamic school Mazahirul Uloom Saharanpur, the President of the All India Muslim Majlis-e-Mushawarat, and a permanent member of the Fiqhi Council of the University of al-Azhar.
Following the examples of his teachers, the Sheikh did not shy away from activism, and took part in the Anti-Terrorism conference in Deoband where texts were drafted, defining terrorism, condemning terrorism, and speaking against the unjust attempts to link Islamic schools to terrorist activities as well as the unjust detention of innocent Muslims.
The Sheikh has also left behind a family committed to the service of the religion in various fields. His son Muhammad Badr Alam Qasmi runs a charitable trust which manages a number of medical facilities, and his daughter Uzma Naheed is a renowned social activist who runs an Islamic school herself and, like her father, is a member of the All India Muslim Personal Law Board.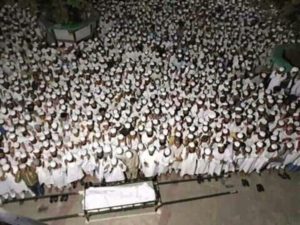 We pray that Allāh (subḥānahu wa taʿālā) grants patience and strength to all his family. May Allāh (subḥānahu wa taʿālā) have mercy on him, forgive him and elevate his ranks in Jannah, Amīn.
[donationbanner]
---
Source: www.islam21c.com
Notes:
[1] http://sunnionline.us/english/2018/04/15/8699/
[2] http://www.dud.edu.in/newsite/en/hazrat-maulana-muhammad-salim-qasmi/