In an explosive development, Islam21c can reveal that the Head of Youth Recruitment at Millwall Football Club's academy, Barry Dunn, reportedly shared a number of Islamophobic and racist social media posts on Twitter. While the Twitter handle @BarryDunn99 no longer exists, we have retained screenshots evidencing his recent apparent discriminatory and unacceptable retweeting history. [1] [2]
One of the retweets in question pertains to a post issued by the notorious demagogue, founding member, and long-time leader of UKIP, Nigel Farage. [3]
Furthermore, Dunn has allegedly shared at least two tweets by Martin Daubney, the former deputy leader of the Reclaim Party, and one by the equally notorious Lawrence Fox, who is the leader and founder of the same. [4] [5]
Anti-asylum seeker mentality; tacit support for Rwanda-style deportation scheme?
One of the most alarming retweets appears to include a composite showing military graves juxtaposed with a congregation of British Muslims praying in the streets.
The accompanying caption for the graves states "They died…", while the image showing the congregational prayer states "…for this?"; it could be argued that the post implies that those who fought in either WWI or WWII died in vain or that the spread of Islam in Britain is seen as a scourge.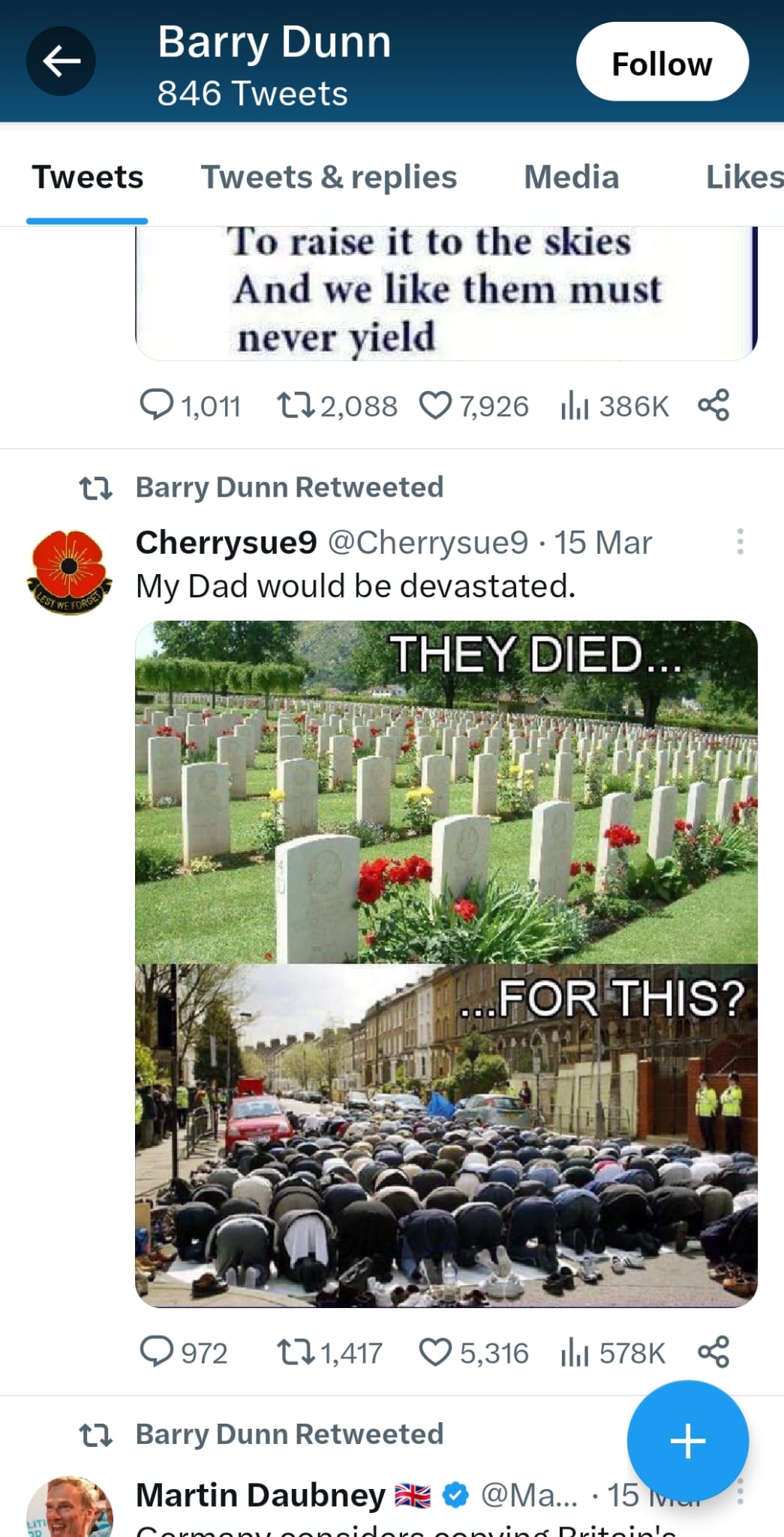 High-profile nature of Dunn is cause for concern
There are lingering worries over Dunn's alleged personal views and whether his ability to execute the role as Head of Youth Recruitment at the Millwall Academy has been impacted by these apparent beliefs.
Of particular concern is the fact that this role has seen him be ultimately responsible for choosing who is selected for entry into the training facility.
Therefore, this debacle begs the question,
Has Barry Dunn ever been in a position to be able to fairly treat Black, Asian, Muslim, and other children of minority backgrounds who apply to join the academy?
Moreover, if there are others within the Millwall leadership team who hold such views, what will be done to counter this unacceptable culture of racism and Islamophobia?
Joining the Muslim Athlete Charter a tick-box exercise?
In early March, we reported on the news that Millwall FC had signed up to a relatively new initiative that seeks to enhance and promote better working environments for Muslim athletes in the UK. [6]
However, the news of the Championship club's Head of Youth Recruitment reportedly holding such appalling views surely leads to a further point on whether the Lions are attempting to present a public image that is inclusive and respecting of others, while individuals such as Dunn allegedly push anti-migrant, anti-Muslim, and other discriminatory language and sentiment.
There must be accountability for the reported actions of Dunn, and it must be the case that the recruitment process at the Millwall Academy is reviewed as a priority, by the club and by the Football Association (FA).
"Zero-tolerance policy against discrimination"
In a statement provided to Islam21c by a club spokesperson, Millwall FC said,
"The club is aware of an active FA investigation into the social media activity of a staff member and is co-operating fully with the governing body.

"The club cannot comment further while the investigation is ongoing but wishes to reiterate its zero-tolerance policy against discrimination of any kind."
In light of this news and the ongoing FA review, Islam21c extends a cordial invitation to dialogue with Millwall FC.
We genuinely hope that the club follows through with its categorical rejection of discrimination and that, together, we can work towards improving existing relationships and cultures, in addition to understanding the Islamic faith in a more accurate fashion.
---
Source: Islam21c
Notes
[1] https://www.millwallfc.co.uk/club/academy/trialsandrecruitment/
[2] https://twitter.com/BarryDunn99
[3] https://www.telegraph.co.uk/business/2022/11/23/incredibly-tories-have-squandered-another-year-brexit/
[4] https://www.theguardian.com/politics/2018/dec/04/nigel-farage-quits-ukip-over-fixation-anti-muslim-policies
[5] https://www.telegraph.co.uk/politics/2020/09/26/laurence-fox-launching-new-political-party-fight-culture-wars/
[6] https://www.islam21c.com/news/millwall-fc-nujum-muslim-athlete-charter/