Respected scholars, du'āt, and academics from around the world have compiled a powerful letter entitled 'A Message to Humanity', aimed to call the masses to Allāh by explaining how the coronavirus (COVID-19) pandemic can be a means to a spiritual and intellectual awakening.
Signed by the likes of Mufti Taqi Usmani, Dr Zakir Naik, Dr Yasir Qadhi, Shaykh Shadi Alsuleiman, Dr Ali Muhammad Muhammad al-Sallabi, Shaykh Dr AbdulHayy Yusuf, Sheikh Dr Sharif Ibrahim Saleh Alhussaini, Shaykh Dr Haitham al-Haddad, and other prominent scholars and thinkers, the message speaks about our incessant need to rely on God. It mentions how the virus is a proof of His existence, the purpose of our existence, a call to halt corruption and injustice across the globe, and the end goal of paradise.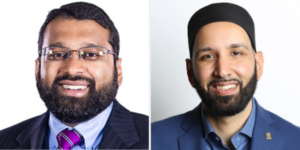 With people's normal routines being disrupted like never before, it is heartening to see people of knowledge use the absence of the usual distractions, and intoxication of the mundane, to get people to reflect and deduce truths that are already embedded deep within them.
The landmark letter, which has also been translated into Spanish, includes verses from the Qur'ān all revolving around the concept of tawhīd, the defining doctrine of Islam.
The letter concludes with a reminder to be mindful of God:
"The choice is ours. We can accept the fact that God is the only deity worthy of worship and that Prophet Muhammad (may God's peace and blessings be upon him) is His final messenger, or we can reject the truth and by virtue of that risk punishment from God—because we have chosen to reject His guidance and mercy."
To read the full statement visit the Message to Humanity website.
Some of the names include:
Mufti Muhmmad Taqi Usmani, vice president of Darul Uloom University Karachi, Pakistan. The most Influential Muslim in 2020 according www.themuslim500.com.
Sheikh Dr Sharif Ibrahim Saleh Alhussaini CON, Grand Mufti of Nigeria, Chairman, Fatawa Committee of the Supreme Council for Islamic  Affairs of Nigeria, Chairman, Assembly of Muslims in Nigeria AMIN.
Muhmmad Seydya Suliman al-Nawawi al-Shanqiti, vice president of Association of Muslim scholars.
Hussain Yee, president of Serving Mankind Association, Malaysia.
Dr. Ali Muhammad Muhammad al-Sallabi, Muslim historian and religious scholar, Libya.
Dr Zakir Naik, Founder, Peace TV Network, Malaysia.
Dr Mohd Asri bin Zainul Abidin, Mufti of Perlis, Malaysia.
Abdul Raheem Green, international preacher, UK.
Sheikh Dr AbdulHayy Yusuf, Vice president of the board of the scholars of Sudan.
Dr Muhmmad Yusri Ibrahim, Academic and researcher, Egypt.
Daei al-Islam al-Shahhal, scholar, Lebanon.
Dr Haifaa Younis, Jannah institute, St. Louis, MO, USA.
Dr. Yasir Qadhi. Dean, The Islamic Seminary of America Dallas, TX, USA.
Sheikh Shadi Alsuleiman, Chairman of Australian National Imams Council (ANIC), Australia.
Dr Muhmmad Salah, Huda TV, Egypt.
Hamza Tzortzis, author and international preacher, UK.
Dr Tawfique Chowdhury, Australia.
Sheikh Omar Suleiman, Founder & President of Yaqeen Institute for Islamic Research, USA.
Imam Said Rageah, Chairman of Journey of Faith international conference, Chairman and founder of Sakinah Foundation, Toronto Canada.
Fadel Soliman, Director of Bridges Foundation, Egypt.
Dr. Anas Altikriti, CEO and founder, The Cordoba Foundation, United Kingdom.
Sheikh Zahir Mahmood, founder and teacher at As-Suffa Institute. Birmingham, England.
Sheikh Dr Haitham al-Haddad, founder of AlMarkaz for Revival and Reform Studies, UK.
Sheikh Mohammed Abdullah Houiyat, scholar, Germany
Dr Kamil Salah, lecturer in Islamic jurisprudence University of Jarash, Jordan.
Sheikh Ihsan Mohammed Alotibie, scholar, Jordan.
Nour al-Din Yildiz a scholar and a preacher, Turkey.
Shaykh Asrar Rashid. Founder of Hadithiyya Institute, Imam at Jamatia Islamic Centre Birmingham. Author, theologian and orator, UK.
Muhammad Idrees Zubair, former professor and member BOG of IIU, Islamabad, Pakistan.
Dr. Bachir Aissam Almorrakochi, scholar, author and the director of Irshad Academy for studies and development, Morocco.
Shaykha Dr. Tamara Gray, Executive Director, scholar and chief spirituality officer of Rabata.
Imam Siraj Wahhaj, Masjid Al Taqwa New York.
Imam Dr. Khalil Abdur-Rashid, Muslim Chaplain at Harvard University, Instructor of Muslim Studies at Harvard Divinity School & Adjunct Professor of Public Policy at Harvard Kennedy School.
For the full list of signatories, click here
---
The deadly coronavirus was first detected in Wuhan, China in December, but is now prevalent in 210 countries and territories around the world as well as 2 international conveyances.
At the time of writing, there are over 3.6 million registered coronavirus cases worldwide, with more than 255,000 deaths.[1]
Indeed we belong to Allāh, and to Him we shall return. We ask Allāh (subḥānahu wa taʿālā) to keep us all safe, healthy, and able to take this opportunity to turn back to Him, seeking forgiveness.
May Allāh (subḥānahu wa taʿālā) cure our sick, protect our elderly, and accept those that have returned to him after having the coronavirus as martyrs, āmīn.
It is also important to note that over 1.2 million people have recovered so far from the deadly virus, alhamdulillāh.
[donationbanner]
---
Source: www.islam21c.com
Notes: