Uyghur Muslims in occupied East Turkestan and those dispersed across the world in the diaspora remember 5 July every year as the anniversary of the 'Urumchi Massacre'. On this day in 2009, Uyghur Muslims in Urumchi city took to the streets to protest against their ill-treatment by the Chinese Communist Party (CCP) government. The protests escalated into violence as thousands of Han-Chinese counter-protestors mobilized to attack Uyghurs and their religious buildings and businesses.
Han rioters reportedly told the international press that they wanted to beat and kill Uyghurs. Many were reportedly armed with machetes, meat cleavers and other weapons. Eye witness accounts indicate that the mobsters were supported by CCP riot police and paramilitary forces. In the days following the riots the CCP detained Uyghur protestors, academics and independent journalists and academics who drew attention to the persecution of the Uyghurs, including internationally renowned economist Ilham Tohti.
The death toll from the riots and CCP response is unclear due to the lack of press freedoms and impartial investigations in China. The CCP claims the majority of victims were Han-Chinese and far exceeded the number of Uyghurs killed but Uyghur sources dispute this. The World Uyghur Congress reported that at least 30 Uyghurs were killed and over 300 injured. Uyghur activist Rabia Kadeer told the international media that as many as 10,000 Uyghur men who participated in the protests vanished overnight and were never seen again.[1] At least two mosques were reportedly damaged. Many Uyghur shops and businesses were reportedly destroyed.
Although the Urumchi Massacre lasted just a few days its effects continue to reverberate to this day. It marked a low point in already strained ethnic relations between the Han-Chinese and Uyghurs in China. The CCP's one-sided response in favour of Han-Chinese rioters needs to be contextualised more broadly in relation to the CCP's repressive long-term policies towards the Uyghurs and its campaign to remove all traces of Islam and Turkic language and cultural heritage from occupied East Turkestan.
The vast majority of Uyghurs are Muslim and speak a Turkic language. In contrast, the CCP officially promotes atheist ideology. The CCP drive to eradicate religion extends beyond Islam and Muslims. Other religious minorities are also oppressed by the Communist Party. Tibetan-Buddhist followers of the Dalai Lama in occupied Tibet protested against their lack of rights one year before the Urumchi Massacre in 2008. The CCP killed many Buddhist monks, nuns and civilians. They destroyed Tibetan buildings and shops. Tibet remains under Chinese occupation today. Countries influenced by communist ideology generally have repressive policies towards religion. Alongside lands occupied by China, Muslims living under Stalin's rule in Russia were also oppressed and persecuted.[2]
In the decades preceding the Urumchi Massacre the CCP had already begun to aggressively target Uyghur culture and religious practice through State-driven programmes of de-Islamicisation and Han cultural assimilation. Uyghur Imams and religious scholars preserving Islamic practice and religious texts in the local language were subjected to harassment, imprisonment and torture.
On the anniversary of the Urumchi Massacre, it is worth reflecting on the current state of the Uyghurs across occupied East Turkestan. More than 1 million Uyghurs are reportedly detained in concentration camps. Witnesses say they were forced to renounce Islam and stop speaking their language. Many were killed and tortured, especially religious scholars and Imams, including Shaykh Abdul Ahad Mehsum, a widely respected Imam, and Shaykh Muhammad Salih Hajim, the first translator of the Qu'ran into the Uyghur language. Many mosques have been demolished and converted into bars and hotels. Uyghur women were forcibly remarried to non-Muslim men or sterilized. Their children were taken from them. Many Uyghurs work in slavery-like conditions in factories to produce high-end fashion for buyers in the West, including the UK.
The Urumchi Massacre was an early precursor of this persecution and violence. This is why we remember this bloody day in solidarity with the Uyghurs.
---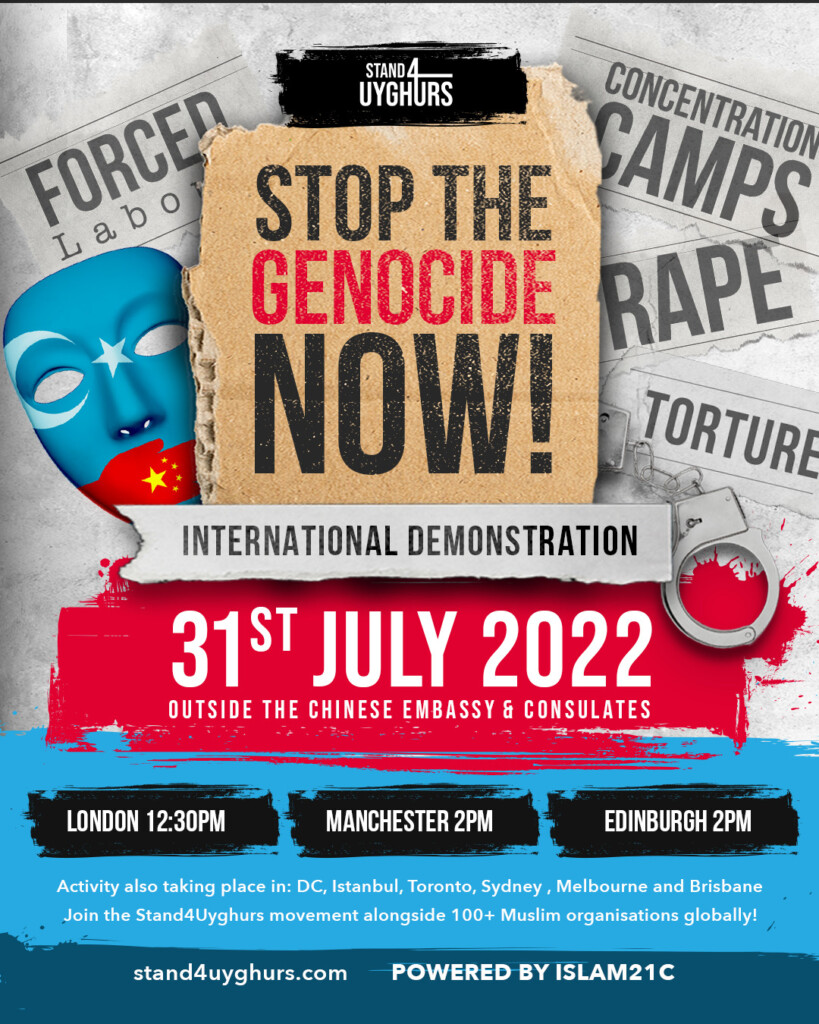 The struggle is not over and we will continue to #Stand4Uyghurs! Join us in our global act of solidarity on the 31st July outside the Chinese embassy and consulates in London, Manchester, Edinburgh. International activity will be taking place in Toronto, Washington DC, Istanbul, Sydney, Melbourne, and Brisbane Insh'Allah.
---
Source: Islam21c
Notes:
[1] https://www.reuters.com/article/us-china-xinjiang-idUSTRE56S1O020090729
[2] Lecture by Shaykh Zahir Mahmood, 'When Stalin Attacked Islam and Muslims', https://www.youtube.com/watch?v=_CWJZElXJgI