Stand4Uyghurs Campaign Paints an Image of China's Genocide Against Uyghur Muslims Outside the Chinese Embassy on The Anniversary of The Urumqi Massacre
On the 5th of July which marks 13 years since the Urumqi Massacre against the Uyghur Muslim minority in China, Stand4Uyghurs campaign will be holding a powerful live art protest depicting the religious and cultural genocide being carried out by the Chinese Communist Party (CCP), outside the Chinese Embassy in London. Late last year,the People's Uyghur Tribunal in London, which was chaired by Sir Geoffrey Nice, who previously led the prosecution of the former Serbian president Slobodan Milosevic, concluded that the Chinese government is committing a genocide against Uyghurs [1].
The Urumqi massacre took place on the 5th of July 2009, where the CCP exerted a violent military crackdown on Uyghurs, resulting in the death of over 1000 and 5000 unjust arrests [2]. This date represents a dark day for Uyghurs and is symbolic of the CCP's bloody history and repression against Uygur Muslims and ethnic minorities.
Acclaimed performance artist Shams will conduct the live art performance through painting a large canvas honing in on the religious suppression, state surveillance, concentration camps, systematic control of births, torture, and abuse the Chinese government inflict on Uyghurs and other ethnic minorities [3]. This live painting will take place in full view of the public and witnessed by key community organisers and activists.
---
---
Details of the live art protest:
Date: Tuesday 5th July
Time: 2-4pm
Location: Chinese Embassy, London
49-51 Portland Pl, W1B 1JL
Our Demands: Stop The Genocide Now!
We demand a closure of the concentration camps.
We demand an end to forced labour in factories and fields.
We demand a return of the hundreds of thousands of missing children.
We demand knowledge about the people killed in the concentration camps.
We demand knowledge of the Uyghurs who have disappeared from rural areas and cities of Kashgar, Hotan and Urumqi.
We demand an end to all sterilisations and forced population control mechanisms.
We demand the removal of Chinese communist party officials occupying Uyghur houses.
We demand a return of Uyghur properties and businesses forcibly confiscated.
We demand the freedom of Uyghurs and other ethnic minorities from repressive Chinese occupation.
We demand the freedom for our Uyghur brothers and sisters to practice Islam inside and outside their homes.
We demand an end to the genocide.
END.
The struggle is not over and we will continue to #Stand4Uyghurs! Join us in our global act of solidarity on the 31st July outside the Chinese embassy and consulates in London, Manchester, Edinburgh. International activity will be taking place in Toronto, Washington DC, Istanbul, Sydney, Melbourne, and Brisbane Insh'Allah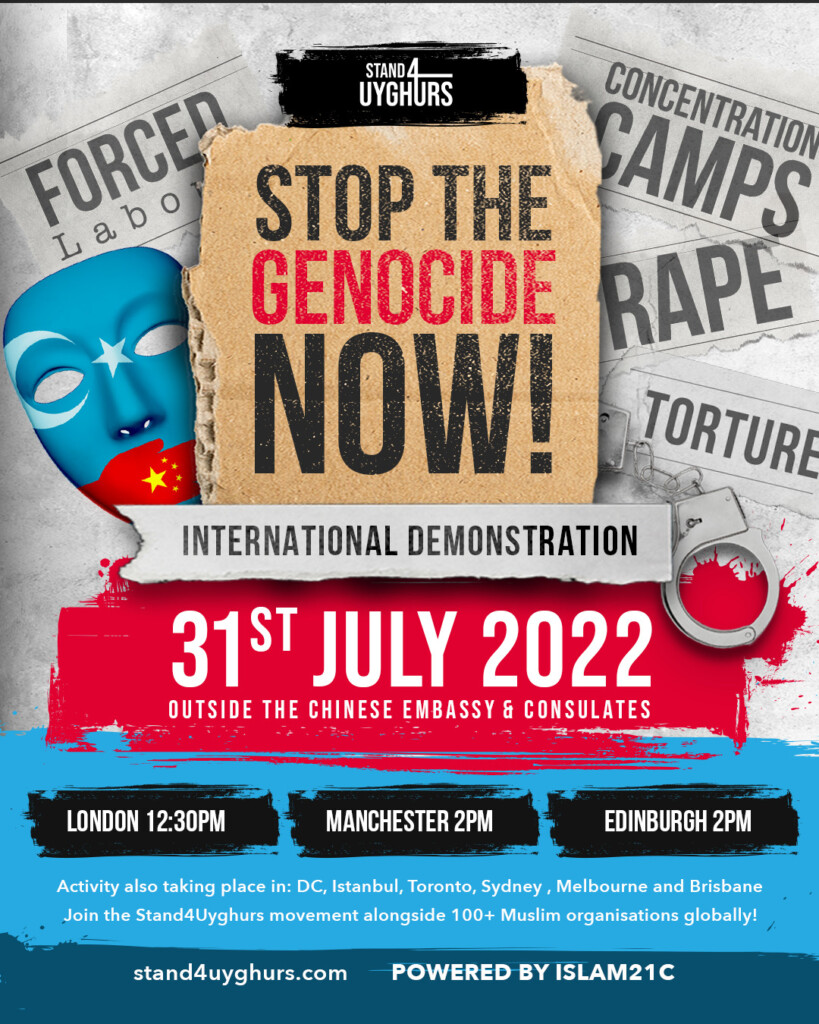 ---
Source: Islam21c
Notes:
[1] https://uyghurtribunal.com/wp-content/uploads/2021/12/UT-judgment-version-for-approval-by-GN-07.25-2.pdf
[2] https://www.uyghurcongress.org/en/the-urumqi-massacre/
[3] Shams is an acclaimed artist with a vast experience in capturing expression through his painting. Over the years he has contributed to many art pieces, particularly in the borough of Tower Hamlets. Shams is recognised to be able to tell a story through his thought provoking and captivating artistry, he can express emotions through imagery, making him the ideal artist for this important socio-political art piece. Shams art page: https://instagram.com/musaartistry?igshid=YmMyMTA2M2Y=
Maira Khan is a UCL Psychology graduate who also holds a postgraduate degree in Health Psychology. She has been involved in many community-based projects, volunteering with Lighthouse Advocacy and is currently the Campaigns Coordinator for Islam21c. Maira aspires to become a researcher and intends to make a contribution to the field of international relations by shedding light on international complicity towards injustices globally.