Shaykh Abdul Ahad Mehsum Hajim (raḥimahu Allah) was a widely respected religious teacher and community leader from Hotan province in occupied East Turkestan. He was martyred in a Chinese concentration camp in 2018. Muslims from around the world can draw inspiration from his relentless determination to preserve and transmit knowledge of the Qur'ān in the face of brutal oppression by a godless regime.
Shaykh Abdul Ahad was born in 1930 in Karakash county, Hotan province, during a period of Islamic revival in occupied East Turkestan. His father, Shaykh Barat Akhun – also a widely respected community leader – was buried alive by the Chinese warlord Sheng Shicai during a revolt against the occupation.
His uncle, Muhammad Amin Bugra, was a historian and the exiled leader of the short-lived 'Turkish Islamic Republic of East Turkestan' established in 1933. Bugra objected to the use of the term 'Uyghur', which was promoted by the Soviet Union, and advocated that his peoples be referred to as 'Turk' or 'Turki' peoples. [1]
Shaykh Abdul Ahad's family connections led to his arrest and detention at the age of five, together with all members of his family, and then his re-arrest again at the age of twelve. Undeterred, at the age of twenty, he pursued Islamic and Qur'ānic studies in Kashgar, and then returned to Hotan to live by and to teach Islam.
A "great role model"
Shaykh Abdul Ahad's son recalled during an interview that his father was a "great role model" who lived by the Deen and practiced what he taught. He was kind and caring but also highly organised, disciplined, and hard working. He heavily emphasised tarbiyah (education). His life was devoted to teaching the Qur'ān and reminding the East Turkestani peoples of their unique history and cultural heritage.
One of his sons living in exile recalls that he prayed Tahajjud (night) prayers and knew many juz (sections) of the Qur'ān fluently by heart. He was always reading Islamic books and translated classical Sunni texts. He ensured his children never missed prayers and placed a lot of emphasis on praying in Jama'ah (congregation) at home. The family always prayed Fajr (dawn) prayers together and then studied Qur'ān, Islamic history, and the political history of East Turkestan.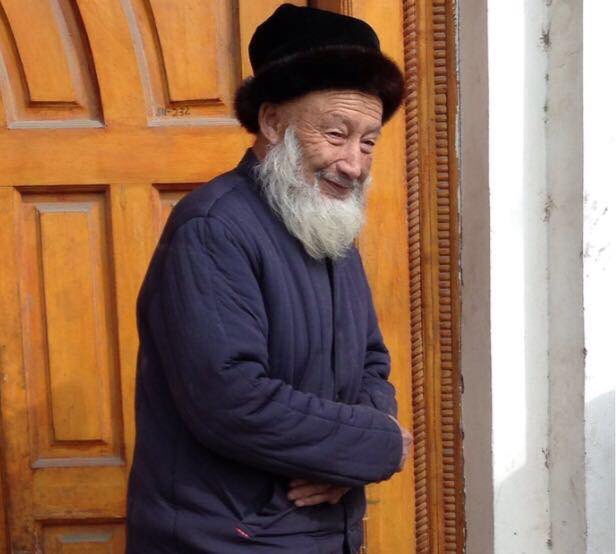 He was widely respected in East Turkestan, especially in Hotan province, for his selfless community service. He rode his bicycle to the surrounding villages to teach children to read and memorise the Qur'ān. His son remembers that many visitors came to their family home every day, to study Islam and seek his general advice.
Imprisoned while his wife was carrying their child
Being an imam without CCP (Chinese Communist Party) approval, unauthorised teaching of the Qur'ān, and the organisation of congregational prayers at home are all considered 'religious crimes' under CCP law. [2] Shaykh Abdul Ahad was charged with "distributing illegal religious materials", "storing Arabic books at home" (i.e. the Qur'ān and other religious books), and various other supposed "crimes", including organising congregational prayers at home. He was convicted and sentenced to 12 years' imprisonment and hard labour when he was in his 20s – this happened while his wife was pregnant. She died shortly after, from the stress and turmoil.
After his release from prison, Shaykh Abdul Ahad continued teaching Islam covertly in secret mosques and private residences. He was re-imprisoned at least four more times, including being sentenced to another lengthy 15-year sentence as well as shorter periods of imprisonment and house arrest. The shaykh was also subjected to bans on public speaking, as well as constant police surveillance and harassment of his extended family.
A former student of Shaykh Abdul Ahad living in exile in Turkey says the shaykh's experiences of repression were not unique. He insists that many imams who served their community and drew attention to the repression of the East Turkestani peoples were similarly targeted for sustained harassment by the CCP.
The Shaykh's final arrest occurred in his late 80s
In 2017, Shaykh Abdul Ahad was re-arrested at the age of 86 for refusing to allow a Han-Chinese police informant to live in his home. A Uyghur academic commented as follows on the significance of the shaykh's final arrest:
"I think the reason they detained Abdulahad Hajim again in 2017 was this:

"If we look at the way that he lived his life, Mahsum Hajim had become a spiritual symbol, particularly among the people in Hotan. He had become a spiritual leader.

"In my opinion, the reason for China's oppression since 2013 has been to completely cut the Uyghurs off from their spiritual life. And so first, they had to destroy and disappear the people that Uyghurs most respect – the people that they most respect in their hearts, the people who symbolized something – in order to bring about an end to our entire people, spiritually speaking. They want to completely demoralise us. They want to make us feel hopeless." [3]
The shaykh was already suffering from ill health at the time of his arrest in 2017. He died in a concentration camp the following year. His family does not know exactly how he died, nor do they know if he received an Islamic burial. Although the location of his remains is unknown, his legacy deserves to be widely known and remembered by Muslims inside and outside of East Turkestan.
By Dilnaz Kerim, a Uyghur sister who is living in exile and still has family members in East Turkestan, and Dr. Suraina Pasha, a political sociologist who writes on matters of human rights from a Muslim perspective.
---
Source: Islam21c
Notes
[1] https://archive.org/details/SherqiTurkustanTarixidouTrkistanTarihi/page/n5/mode/2up
[2] https://uhrp.org/
[3] https://www.rfa.org/english/news/uyghur/teacher-05112020182903.html