Reading the title above, the danger may be misunderstood off the bat. This is not in reference to the risk that children may be sent such material by others (although that is a very real threat that needs to be addressed). This is in reference to the fact that pornography can be found within the WhatsApp application itself.
This does not include only WhatsApp. Pornography can be found in every other mainstream messaging app: Telegram, Skype, Signal, Viber, WeChat, Facebook, Twitter, Snapchat, Slack, Reddit, TikTok, Bumble… the list goes on.
---
Also Read: How Watching Pornography Changes the Brain
---
Alarmingly, it is even present in the operating systems of the mobile phones themselves, in Apple iOS (also iPadOS and macOS) and Google Android. It can be found in the native messaging applications and the native Android keyboard.
These applications are mostly used on mobile phones, but are also found on tablets, laptops, and desktops.
This claim is not an exaggeration. Let us firstly be clear on the definition of pornography, which is defined by the Merriam-Webster Dictionary as:
The depiction of erotic behaviour (as in pictures or writing) intended to cause sexual excitement.
The type of pornography present in these messaging apps are video clips featuring shameful explicit sexual content that is completely inappropriate, especially for children.
The believers are described in the Qur'ān as:
الَّذِينَ يَجْتَنِبُونَ كَبَائِرَ الْإِثْمِ وَالْفَوَاحِشَ إِلَّا اللَّمَمَ

Those who avoid great sins and shameful deeds, only (falling into) small faults.[1]
Not only does such material corrupt the soul, but numerous academic studies have revealed its detrimental impact on one's mind and behaviour, which in turn damages relationships, amongst other negative implications.
Giphy
This content appears within the GIF features of these apps.
For the unacquainted, a GIF is a file format for a moving image that is played repeatedly in a loop –essentially a short, repeated video clip without sound.
These images are usually provided by the integration of a service called Giphy, which was notably acquired by Facebook for a reported $400 million in May 2020. Tenor is also used, which was acquired by Google in 2018.
---
Also Read: Social Media and the Cyber Youth Crisis
---
The apps mentioned above have an open search feature without a filter and without a safe search option such as the one found on image search sites like Google Images. It is important to note that despite the safe search feature being flawed, there is not even an attempt to have such a feature in these apps.
Searching terms such as certain body parts, provocative clothing, or the names of celebrities or models will instantly produce vast amounts of vulgar GIFs. Promotion of homosexual activity is also present.
However, searching is not the only way to encounter such filth. Simply opening the function can be enough to present this type of material, with the default display of images being those that are most popular or trending.
Lewd and obscene material is a major issue here, but this feature also carries a wide range of highly problematic content featuring violence, drug use, and profanity. Arguably even more dangerous is the blasphemous material that is also found that aims to make a mockery of Allāh, His Dīn, and His messengers.
This is what our children are being exposed to, and what is undoubtedly being shared and received in their text messages.
Parents are responsible and accountable for protecting their children and loved ones from being exposed to such harmful content. It is imperative that we take precautions and measures that are available to us to achieve this. Failure to do so can cause long-lasting damage to our well-being and that of our children in this life and the next.
---
Also Read: I'm a Porn Addict… Get Me Out of Here!
---
This is an important reminder of the timeless guidance from our beloved Creator:
يَا أَيُّهَا الَّذِينَ آمَنُوا قُوا أَنفُسَكُمْ وَأَهْلِيكُمْ نَارًا وَقُودُهَا النَّاسُ وَالْحِجَارَةُ عَلَيْهَا مَلَائِكَةٌ غِلَاظٌ شِدَادٌ لَّا يَعْصُونَ اللَّهَ مَا أَمَرَهُمْ وَيَفْعَلُونَ مَا يُؤْمَرُونَ

O you who have believed, protect yourselves and your families from a Fire whose fuel is people and stones, over which are [appointed] angels, harsh and severe; they do not disobey Allāh in what He commands them but do what they are commanded.[2]
What you can do
1
Instead of following the herd think critically and deeply about your children's need for these devices in the first place, considering the many dangers and negative impacts they can have on their developing brains.[3]
Have a frank conversation with your children to get them to appreciate the dangers of exposing their developing brains to these devices in the first place.
2
Gradually prepare them for staying safe online when they do need to be, instead of throwing them into the deep end with a device of their own. Before giving your children new devices—if they absolutely need them—make sure you know how to operate them yourself, and how to keep those under your guardianship safe from the many dangers.
3
There is no option to remove or disable this feature. Therefore, these apps must be removed completely by uninstalling them, until there is an option to switch this feature off.
The exception is the Apple messaging app. To remove this feature, first ensure that a Screen Time passcode has been set on your child's device:
Go to Settings > Screen Time > Use Screen Time Passcode. You will be promoted to set a passcode that will only be known to you and should not be given to your child.
Now, go to Settings > Screen Time > Content & Privacy Restrictions > iTunes & App Store Purchases > Installing Apps. Ensure that this is set to "Don't Allow".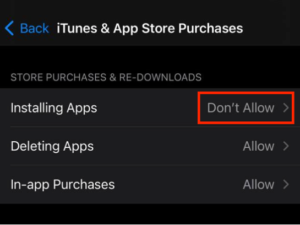 Next, go to the Messages app and compose a new message. Swipe the banner until you see the "More" icon with 3 dots.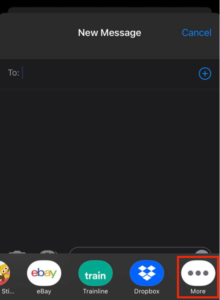 From here, choose "Edit" and remove "#images" from the Favourites.
Following this, the #images app will appear on the bottom of the screen under "MORE APPS". Flip the switch to turn this off.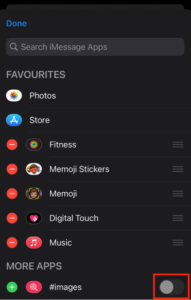 This cannot be re-added as long as the first step of preventing apps from being installed has completed.
4
Raise awareness by sharing this article with other parents. Use the hashtag #UninstallPorn. Most parents are unaware that this problem exists and will be unsure how to address it.
If your child is being encouraged to use these platforms by their school then speak to the school leadership to consider alternatives like email for communications, or at least teach the children first about staying safe on those platforms.
5
Call on these companies to add parental controls allowing the removal of the feature for children.
Below is a table of contacts and a suggested template (that we recommend to be customised before sending).
Suggested template
"Dear [contact]
I have been disturbed to find the presence of explicit sexual content within the GIF feature in your messaging app.
These kinds of apps are promoted to be suitable for children who are 12 years and above, yet I find this vulgar material to be completely inappropriate. As a result even some schools promote the use of your app for communication between students.
I call upon you to add parental controls to your apps so that we can disable the Giphy feature from the devices of our children.
I look forward to hear your response."
---
Also Read: Entertaining Ourselves to Death
[donationbanner]
---
Source: www.Islam21c.com
Notes:
[1] Al-Qur'ān 53:22
[2] Al-Qur'ān 66:6
[3] https://www.islam21c.com/islamic-thought/social-media-cyber-youth-crisis/