Yesterday we heard news of perhaps the biggest political earthquake in a generation, the UK voting to leave the EU, with a slim majority. There have been laughs,[1] there have been regrets;[2] there have been cheers and optimism;[3] there have already been broken promises,[4] there have been doomsday predictions and emboldened racists scaring ethnic minorities;[5] young people angered and over 1.7million people petitioning for a second referendum already;[6] and tears of both joy and sorrow—depending on where you get your news.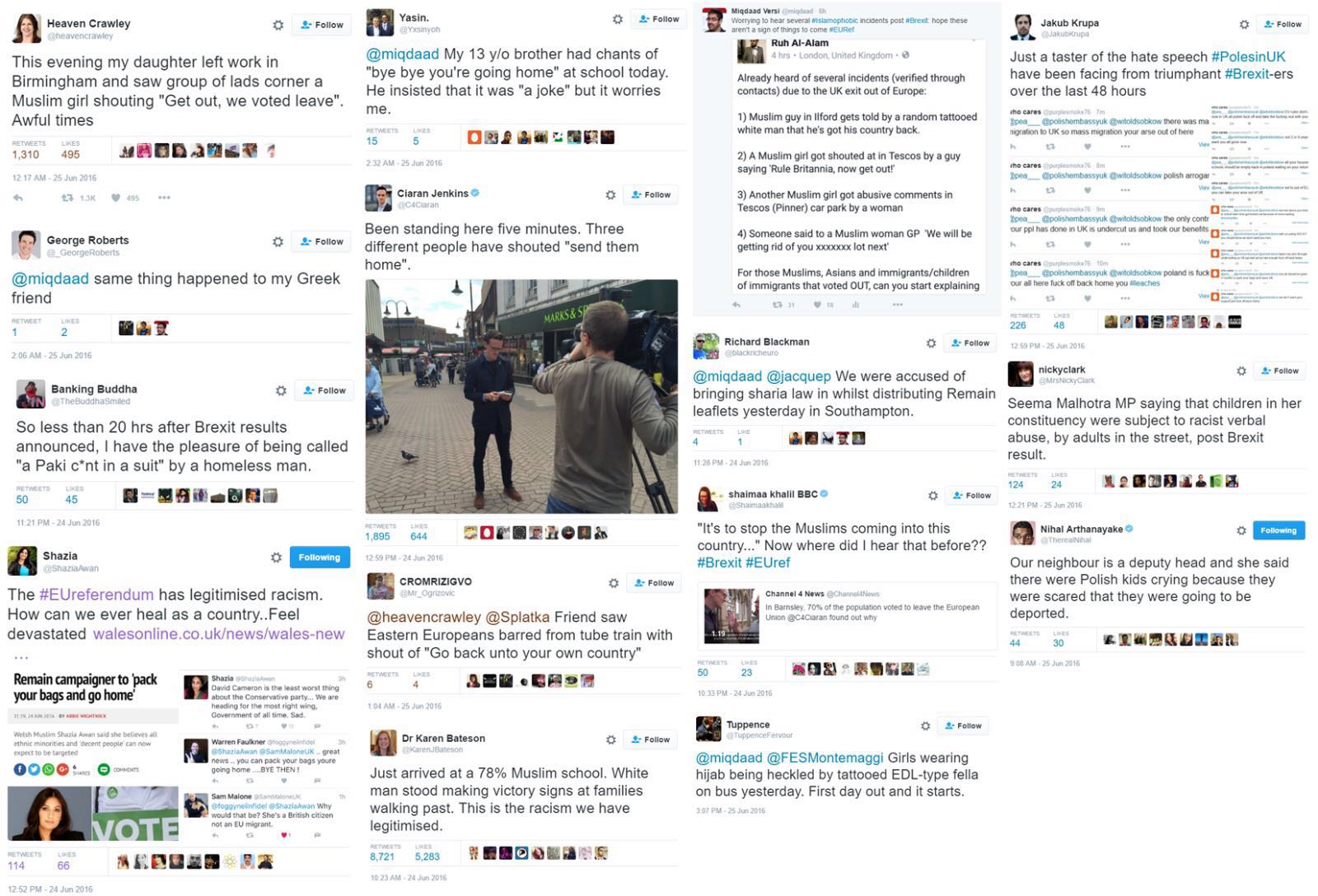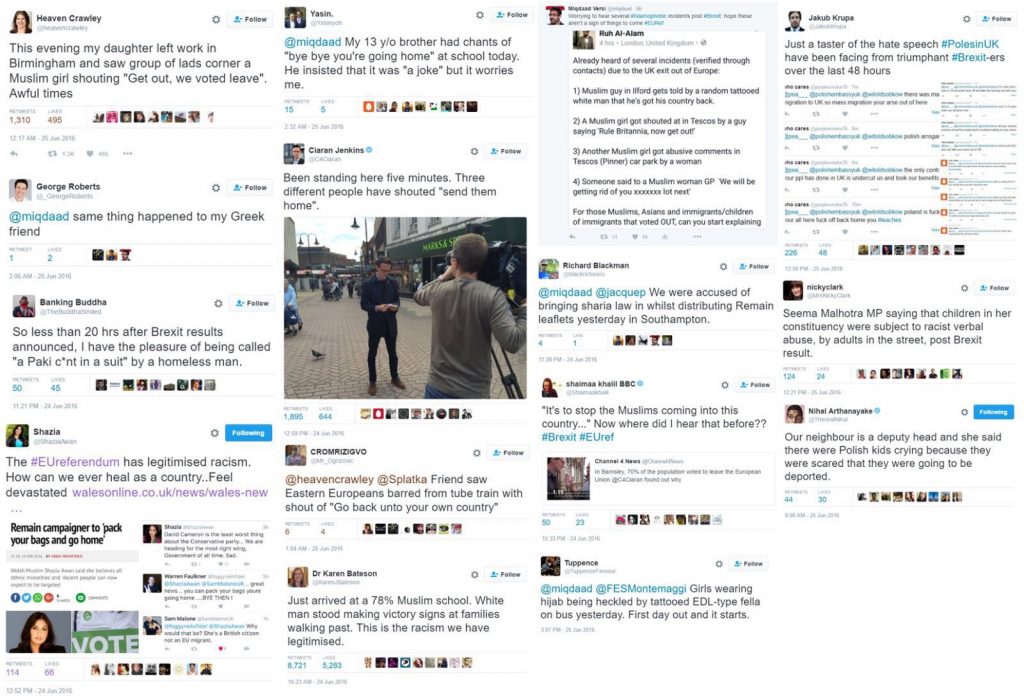 There is much analysis to come over the coming days and weeks, and no doubt campaigning to make sure we have a say in what a post-Brexit UK would look like. However, here are some initial—yet insightful—reactions to the referendum result from our regular contributors and readers.
Where do you stand? Let us know in the comments.
---
---
---
Muslims must be optimistic
Whether remaining in Europe or leaving it, Muslims who wanted to stay should not feel that disappointed as they need to remember that this life is nothing but a test. This can be one of the so many tests that we will go through in this life.
الَّذِي خَلَقَ الْمَوْتَ وَالْحَيَاةَ لِيَبْلُوَكُمْ أَيُّكُمْ أَحْسَنُ عَمَلًا ۚ وَهُوَ الْعَزِيزُ الْغَفُورُ
"[He] who created death and life to test you [as to] which of you is best in deed – and He is the Exalted in Might, the Forgiving."[7]
These Muslims should act like previous Muslims who were in the most difficult times relying on Allah and working hard to transfer any challenge to an opportunity. The same thing is also to be said to those who thought that it is going to solve our problems.
It is worthy of highlighting that the people who voted for Brexit are exiting a continent of people that similar to them in colour, religion and culture. Many EU countries are now pushing for having their own referenda for similar reasons. This means that they are ready to be disunited, and the peoples of the world know what has happened throughout the long and bloody history of Europeans when disunited.
Cameron and many of his allies appear to be unhappy with the results, they should remember that this separationist mentality was a product of their policies when they were attacking Muslims and calling for (their version of) "Britishness" and "British values" to be imposed on others, driving wedges between communities within the UK. It looks as though their chickens may have come home to roost.
Shaikh Dr Haitham al-Haddad
---
Humble in Victory and Gracious in Defeat 
The United Kingdom's electorate have decided and we as a country are big enough, strong enough and wealthy enough to survive and get through this. Hence, now is not a time to reflect on what next, but a time for self reflection.
The EU referendum would have pitted one Muslim against another, one brother against another, and even father against a son. Having experienced the joys of political victory as well as the deep despair of defeat – I know exactly what each side will be feeling at present. It's not a time to gloat or to make recriminations. However it is a time to heal the divisions and reflect on the bigger picture. The UK electorate have spoken and Allah's will has been executed. It's now time to turn to Allah and make the most of these blessed days that remain. A time to make dua that Allah protects and guides the Muslims of the UK and the country as a whole.
Hence, such times are a test of one's character and a time to show that as Muslims we are humble in our victory and also gracious in our defeat.
Mukhtar Master
---
Leaving the European Union and its implications on the reconstruction of British Identity
For some the EU vote was a battle between two competing parts of the establishment neither of which representing the interests of working class individuals. Victory was however obtained by one side masquerading as freedom fighters for Britain's beleaguered working class. Brexit was sold as a fake revolt to aggrieved citizens at the bottom rung of the economic ladder. Most of whom will be unaware that Nigel Farage is an ex banker that runs a political party UKIP that is more pro austerity than the existing Tory government. In no way shape or form does he represent the interests of this demographic. Yet the Brexit message resonated with them because it tapped into their very real sense of anger. There is a saying that "for every complicated problem there is a solution that is convenient and simple but wrong." The issue of immigration proved to be a game-changing convenient and simple scapegoat.
For many in Britain, particularly those under 40 years of age, being European is part of their identity. It is how they self-define and conceptualise who they are. Having this identity stripped of them should not be underplayed as a small matter. Brexit will strengthen the hand of those that peddle a right wing agenda. Characterised by an edgy nationalism, greater austerity and one that has less respect for diversity. Many British people will struggle to feel a sense of belonging to this paradigm shift. Attempting to reconstruct British identity with a revised set of British values commensurate with the views expressed by Brexit campaigners is likely to build a growing sense of alienation not cohesion.
Muslims perhaps are in a better position. They have for some time now already been at the receiving end of a British-values agenda that is not inclusive. The Resilience of British Muslims against a re-defining of their identity is one that has been frustrating to the government's counter-extremism agenda. Muslims have had some experience with the British state trying to covertly re-construct their identity so as to bring about an "acceptable" form of British Islam. However a state sanctioned Islam has not fully penetrated in to the mainstream, despite the effort and resources poured into achieving this aim. For example the so-called false grassroot community groups being architected and given succour by the government's Research Information and Communications Unit (RICU) which has acted as a control-room attempting to orchestrate this propaganda driven change. (Listen to the Islam21c podcast here about the exposure of RICU)[8]
Governments need to be reminded and pressurised to recognise that we the people are citizens and not subjects. The lesson to be taken, if only they would learn it, is that the forcible recasting of the identity of society is a project in social engineering that often fails and leads to greater division not unity.
---
Brexit has had a domino effect on the rest of Europe's far right.
Dutch anti-immigration politician Geert Wilders said the Netherlands deserved a "Nexit" vote while Italy's Northern League said: "Now it's our turn. Le Pen hailed the UK vote, "Victory for freedom. As I've been saying for years, we must now have the same referendum in France and other EU countries." Mateo Salvini, the leader of Italy's anti-immigration Northern League: "Hurrah for the courage of free citizens! Heart, brain and pride defeated lies, threats and blackmail. Now it's our turn". The anti-immigration Sweden Democrats wrote on Twitter that "now we wait for Swexit!" Britain has always been a specialist in divide and conquer. It looks like they are still staying true to their values of dividing but I don't think there will be must conquering this time!
Far-right organisations across Europe with Neo-conservatives at the helm of western governments are a chilling echo of the time of the battle of Vienna. In many cases across Europe where the anti-Muslim narrative has come to be recognised as a central most feature of the far-right discourse, it appears that we are seeing the re-birth of the Holy Christian League that was formed to defeat the Ottomans before the battle of Vienna. A report conducted in 2013, highlighted the coming together of European far-right organisations across Europe in the same geographical area as in the 17th Century where the Holy Christian League was formed, including France, Germany, Italy, Netherlands, Poland, Czechoslovakia, Austria as well as others such as Britain with the uniting factor being their hatred of Islam and Muslims. The underlying hate has manifested from the paradigms of empires to the construct of nation states and secular liberalism. The tide, at least perceptively, feels as though it is unrelentingly against the Muslims.
Z A Rahman
---
Both sides lost the gamble
Well – I think no one, not even the leaders of the Brexit campaign, thought this could happen. They were playing politics, and the 52 percent of voters called their bluff. For 20 years Conservative politicians have been attacking Europe for populist political reasons domestically, and using domestic scepticism about Europe as an bargaining counter in European politics, all the while confident that neither the British people or European institutions would let Britain's place in Europe be jeopardised. But this time they walked too close to the edge, misread the mood of the British people, and toppled into the abyss.
The official leaders of the Brexit campaign were Boris Johnson and Michael Gove. They looked yesterday as if they had been defeated. Why? Because they never wanted or expected to win and now are stuck with this result. That is why the leader in victory yesterday was Nigel Farage, a joke figure who has been campaigning for GB to leave the EU for 20 years without ever winning a seat in parliament in 7 attempts. Indeed, he was not even part of the official Leave campaign. But the media could not find any one else to present as the happy victor.
Now Johnson knows that he will be blamed for this. He was making a classic populist Eurosceptic play for power within the conservative party, but did not expect to be facing this situation. Remember, even after the referendum date was announced, he was vacillating on whether to join the Leave campaign or the Remain one. This was not a matter of principle for him. It was political expedience – which campaign would offer him the best route to 10 Downing Street. Back then he would have thought that a strong showing from Leave would be a 45-55 defeat, which would be enough to weaken Cameron and give him credibility as a populist leader who could stand up for Britain in Europe.
What no one on either side, or in Europe, or among the political commentariat, expected was that the referendum would become the focus for accumulated social and economics grievances, many contradictory, leading a slight majority of people – largely in marginalised and usually disregarded parts of the country and sectors of the population – to mobilise, creating a momentum that has made the unthinkable a reality. What they all forgot was that it is much easier to unite against something than for something.
Democratic politics consists largely of elites manipulating and exploiting popular opinion. This time they got it very wrong. The result is going to be very damaging indeed for two broad reasons. First, those who were manipulated into voting for Leave will expect to get everything they were promised, which their leaders never expected to have to deliver on. And second, Europe is going to punish Britain, make an example of it, so no one else in Europe is tempted to do the same.
Iqbal Siddiqui[9]
[donationbanner]
---
Not a victory for the far right
According to one piece of research only 30% of Muslims voted to leave the EU,[10]  so it's little surprise that our social media is awash with pessimistic memes and fear mongering over a sudden change we didn't ask for.
Not least is the claim that the far right have won. In fact according to that research the largest reason (49%) for voting to leave the EU was "the principle that decisions about the UK should be taken in the UK" with 33% saying it "offered the best chance for the UK to regain control over immigration and its own borders." Which could include security concerns above general immigration. Considering the loud rhetoric especially from the unofficial leave campaign (that many of us mistook for the official one) it is actually quite encouraging that no more than 12% of the electorate turned out to vote against immigration.
The generational divide has been likened to the old folks taking away the young generation's future due to harking back to a rose-tinted past. I feel it's more likely that they remember what a democracy should look like while the younger generation have got used to having no expectation of being able to influence their own government. Not that anyone thinks they can influence the EU government any better but seeing over the years the EU implement some popular regulations and our government fight them, the EU has taken the position of a benevolent dictator which the young are now crying to have lost; wailing that there will be no more workers rights, no environmental protection, etc. What does that say about democracy in the UK? That so many of the young people in the UK realise their own elected government is utterly out of the people's control, in this so called democracy.
Abdullah Thomson
Source: www.islam21c.com
Notes:
[1] https://www.washingtonpost.com/news/the-switch/wp/2016/06/24/the-british-are-frantically-googling-what-the-eu-is-hours-after-voting-to-leave-it/
[2] http://www.standard.co.uk/news/politics/i-really-regret-my-vote-now-the-brexit-voters-who-wish-theyd-voted-to-remain-a3280361.html
[3] http://www.dailymail.co.uk/debate/article-3659144/Carney-sacked-Lord-Farage-bye-bye-Scotland-Oh-brand-new-party-PETER-OBORNE-looks-crystal-ball-coming-months-hold.html
[4] http://www.liverpoolecho.co.uk/news/liverpool-news/brexit-three-promises-campaigners-already-11523855
[5] https://www.theguardian.com/commentisfree/2016/jun/24/intolerance-ethnic-minority-poles-uk
[6] https://petition.parliament.uk/petitions/131215
[7] Al-Qur'ān 67:2
[8] https://www.islam21c.com/politics/podcast-was-the-government-caught-deceiving-muslims/
[9] https://www.facebook.com/fahad.ansari.90/posts/10153548372232102?pnref=story
[10] http://lordashcroftpolls.com/2016/06/how-the-united-kingdom-voted-and-why/