General Sisi's military coup claimed that it was put in effect to answer the calls of the masses who gathered in Tahrir square on the 30th of June 2013. The 30th of June protests indeed won the sympathy of the Egyptian army, pre-inclined in their support of the previously deposed regime of Husni Mubarak. Mobs of armed protestors had torched the Brotherhood's headquarters, killing and injuring scores while tens of thousands surrounded the Presidential Palace, many of whom were armed with shields, clubs, home-made handguns[1] and Molotov grenades. Huge pro-legitimacy rallies came after the 3rd of July coup, stationed in the Rabaa al-Adawiya and al-Nahda squares of Cairo. These rallies were, however, characterised by strict civilian order, providing demonstrators with meals in Ramadan, full access to television, internet, an array of businesses and vendors, areas for prayer, segregation facilities, fully-fledged speaker and event programmes, organised security and play areas for children with bouncy castles and swimming pools.[2]
Unaffected by the demands but exasperated at the resilience of these sit-in protests, coup-government security officials began their bloody campaign. During the dawn prayer of the 8th July, the republican guards of the coup government opened head-directed fire with explosive ammunition at protestors as they were praying, killing 42 individuals and injuring around 500 others.[3] Al-Sisi then requested that his supporters demonstrate on the 26th of July to provide "authorisation and an order" for security forces to practice 'legitimate' brutality against the protestors and force their dispersion.[4] The general did not step back to anticipate this authorisation nor was he interested in getting approval for what was to come.
The general's conviction of "violence and terrorism" unfolded into his will to confront what was "anticipated". His arrogance and insistence on quelling a spring that would doom his feat a failure pushed him to a second major massacre after his 48-hour decree that was issued before his supporters had even gathered![5] The timing was again dawn, this time on the 27th of July. After the 48 hour ultimatum, security forces stormed Rabaa al-Adawiya, enforcing a 'shoot to kill' policy, murdering more than 100 protestors and injuring scores. Al-Sisi had escalated the situation from an illegal coup to a fully-waged military war on the Egyptian populace. International response was, however, categorised by weakness and utter disdain. The British Foreign Ministry at the time curbed its condemnation to the words "now is the time for dialogue."[6]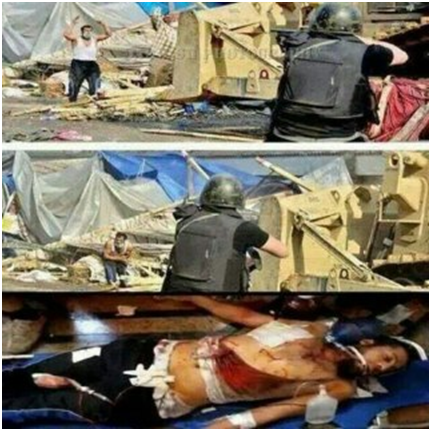 When it became clear that his Pharaoh-like demeanour will only arouse enthusiasm and further defiance, he, with his coup government took their crimes to a level Egypt has not seen the likes of nor indeed has the entire world. Egyptian forces brutally stormed the two sites Rabaa and al-Nahda, assisted by bulldozers, snipers and helicopter fire, dispersing the two sit-ins with all what al-Sisi had in his depository. Hours on end of indiscriminate fire resulted in the murder of well over 3000 protestors (some speak of 13,000 martyrs) and the injuring of a total innumerable.[7] Security forces went on to blaze the Rabaa makeshift hospital that still contained causalities, some of whom were still alive in order to destroy any remaining evidence.7 The successive "Day of Rage" in response to the Rabaa massacre turned into an evening of bloodshed when security forces continued their onslaught onto Cairo's Ramsis-Square, killing more than 100 civilians and forcing them to set up makeshift hospitals in Al-Fateh mosque.[8] Amidst a swarm of outlaws, security forces barraged the mosque with bursts of gun-fire and then stormed the mosque in defiance to all religious and international customs, severely beating those who had taken refuge inside.[9]
---
---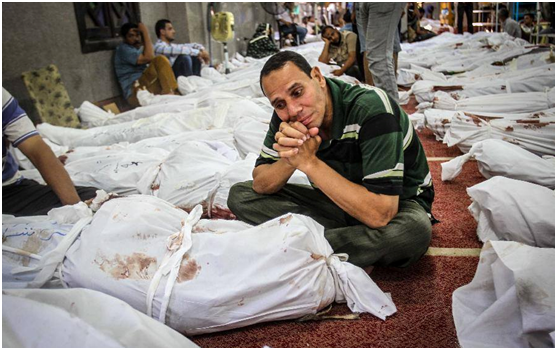 The 14th August marks a year to the day of the massacres of Rabaa al-Adawiya and al-Nahda squares where many thousands of people were massacred and their corpses burnt.
Kenith Roth, executive director of Human Rights Watch says that "Egyptian Forces carried out one of the world's largest killings of demonstrators in a single day in recent history." He further condemns the current regime in the most direct terms: "this wasn't merely a case of excessive force or poor training. It was a violent crackdown planned at the highest levels of the Egyptian government. Many of the same officials are still in power in Egypt, and have a lot to answer for."
In reality it is not just them who have a lot to answer for, but also all the financers and supporters. On 11th August 2014, just three days before the first anniversary of this tragedy, chief traitor and current president Abdel-Fatah al-Sisi was in Saudi Arabia on official state visit during which he was awarded the King Abdulaziz Necklace, the highest and most prestigious medal in Saudi Arabia.[10] The Saudi Kingdom has been one of Al-Sisi's biggest supporters, reportedly giving in the region of at least $12 billion in aid in support of his crippling economy and to help his military campaign against "Islamic extremists."[11] He further went on to perform 'Umrah, under some quite spectacular circumstances.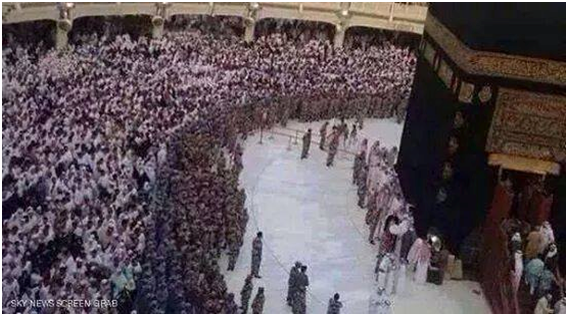 When you see the level of security that is in place for this one man and you consider what he has done to harm the religion of Allāh, you consider this āyah:
"And who is more unjust than those who prevent the name of Allah from being mentioned in his Mosques and strive towards their destruction! It is not for them to enter these places except in fear. For them in this world is a disgrace, and in the hereafter then will have a great punishment."[12]
Rest assured dear reader that Allah has willed for him disgrace in both this life and the next.
Allah further says:
"Whoever kills a believer intentionally – his recompense is Hell, wherein he will abide eternally, and Allah has become angry at him and cursed him and prepared for him a great punishment."[13]
This is the damning indictment for the one who commits this heinous crime and it is made infinitely worse by the fact that the succeeding verse does not outline any type of repentance that can atone for this deed. How is it therefore that still, until today, people are supporting this proven killer with excuses as lowly as "we want stability" or "what made them go there?" or "they were blocking the roads"? The believers in Egypt should rest assured that even if they are sentenced to death in their droves, imprisoned indefinitely or suppressed of their right to oppose, Muslims around the globe will converge their efforts in their support, on all fronts. The people of Egypt, for their sacrifices should be leant nothing less, after all, and as recent events have confirmed, other than a sound leadership in Egypt, the whole Muslim world will remain in tatters.
Years on, Sisi is being slowly strangulated from conscientious Egyptians and non-Egyptians all over the world. But we all have a duty to keep the legacy of the slain alive.
[donationbanner]
---
source; www.islam21c.com
[1] http://www.independent.co.uk/news/world/africa/at-least-four-dead-as-violence-erupts-in-egypt-and-clerics-warn-of-civil-war-8680281.html
[2] http://egyptianstreets.com/2013/08/12/rabaa-al-adaweya-a-crossroads-transformed-into-a-bustling-life/
[3] http://www.aljazeera.com/news/middleeast/2013/07/20137821320932698.html
[4] http://www.economist.com/news/middle-east-and-africa/21582308-egyptian-army-cementing-its-alliance-non-islamist-public
[5] http://english.alarabiya.net/en/News/middle-east/2013/07/25/Official-Egypt-army-gives-Brotherhood-48-hours-to-join-roadmap.html
[6] http://www.theguardian.com/world/2013/jul/27/egypt-muslim-brotherhood-morsi-supporters-killed
[7] http://www.aljazeera.net/home/print/f6451603-4dff-4ca1-9c10-122741d17432/a9362e29-dce4-4c51-92bb-b2c59a4f86aa
[8] http://www.aljazeera.com/indepth/inpictures/2013/08/2013816181148475189.html
[9] http://www.aljazeera.net/humanrights/pages/6a92147c-486c-479e-bc51-a66c620948be
[10]http://english.alarabiya.net/en/variety/2014/08/11/Sisi-performs-umrah-during-Saudi-Arabia-state-visit.html
[11]http://www.algemeiner.com/2014/08/11/egypt%E2%80%99s-el-sisi-and-saudi-king-abdullah-meet-in-jeddah/
[12]Qur'an 2:14
[13]Qur'an 4:93