Announcement – The BIG Discussion is now available to watch:

---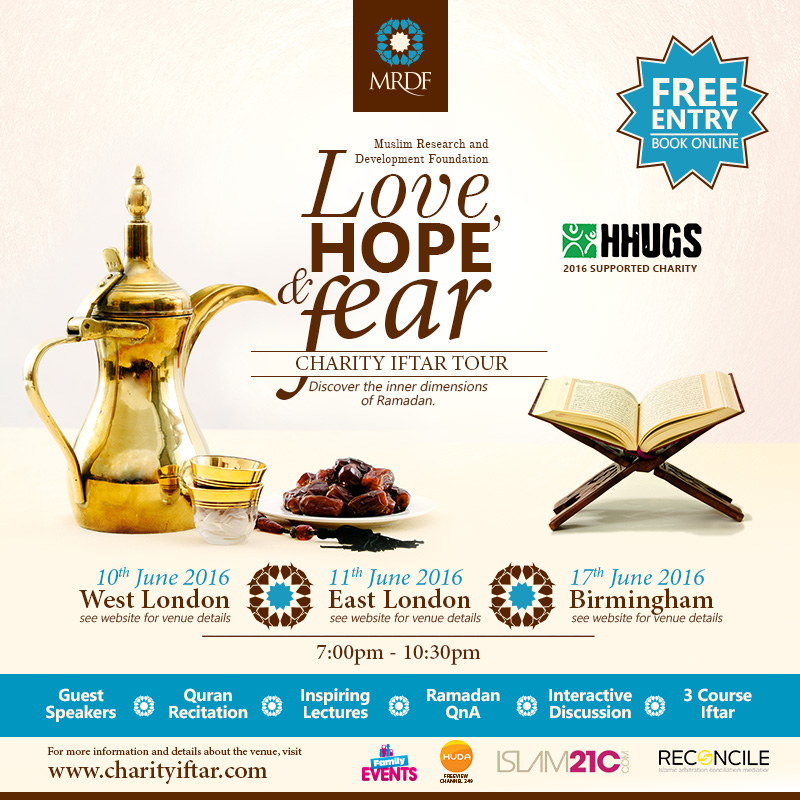 ---
---
---
---
To read Shaykh Dr Haitham al-Haddad's latest article on prayer times click here
To download the 2016 Ramadan calendar pdf click here
Note;
The 2016 prayer and fasting timetables have undergone revisions hence you may notice some changes. We treat the times relating to fasting extremely seriously and will always aim to ensure we are using the most accurate and acceptable methodology. Our research team used extra measures this year to help ensure these timetables are the most accurate estimations of prayer times. This year we adapted the method that can be known as Solar Midnight (mid-way between the solar night which is between sunset and sunrise). This time is either the same or very close to Aqrab al-amakin (nearest location) which produces the earliest Fajr for that specific longitude in the northern hemisphere. The closeness of the outcome of both methods confirm that both are consistent to the Sharia solution for the problem of persistent twilight. A more detailed explanation can be found on http://www.muwaqqit.com/ and Patel 2016.
Secondly we recognise that a city can be quite large and so prayer times can vary across the city by a few minutes. This year we used a standardised method to determine the exact coordinates of a city when calculating a time hence you may find a slightly different Fajr start time for your city. You will find those GPS coordinates at the top of the calendar. This does not mean that your fasts last year were invalid as all Fajr times used in this twilight period are all based on "a level of estimations" so you can rest assured that your fasts last year are safe if you used our timetables, as will be the case this year inshaAllah.
These times are based on the 18 degree depression of the Sun for Fajr prayers as agreed upon by the vast majority of Muslim scholars since the early period of Islam including all major Fiqh Councils. It is the degree used to calculate the Fajr timing for most Muslim countries. The polar regions above 66° are dealt with differently but this only corresponds to a handful of cities such as Tromso, Norway.
Shaykh Dr Haitham al-Haddad
[Revised May 2016]