Islam21c's Managing Director Amanpaul Dhaliwal shares some touching anecdotes of his late wife including her inspiring life before and after Islam, her journey with terminal cancer and the amazing death Allah blessed her with.
Also includes full footage of the burial day with emotional reminders from both her husband and Sh Haitham.
We pray that Allah (subḥānahu wa taʿālā) grants patience and strength to all of her family. May Allah (subḥānahu wa taʿālā) have mercy on her, forgive her, and elevate her ranks in Jannah. Āmīn!
Watch Here
[box type="shadow"]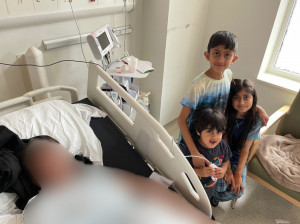 A legacy page was created for Sonia, who leaves behind three children. These young children will undoubtedly find the loss of their beloved mother to be very difficult. The page is to ensure that their mother's legacy continues, by supporting her children's future and building legacy projects in her name.
Click here to donate and share.
[/box]
---
Source: www.islam21c.com