Part 1 | Part 2 | Part 3 | Part 4
In the second part of this blog, I will speak about the courageous Uyghur women I had the honour of interacting with, and share their personal insights and experiences. The women I met were leaders or recipients of the Nuzugum Culture and Family Foundation, which is an organisation catered to women, widows, and orphans resettling in Istanbul.
After spending some time at the Nuzugum office, the sisters took me around the local area of Zeytinburnu to see some of the local businesses where Uyghur women worked.
We first stopped by at a salon, where I met a strong-willed woman who was single-handedly looking after her 7-year-old son as well as supporting her husband's son who is studying in Egypt, and her daughter who is at a university in Türkiye.
---
---
I learnt that she had come to Türkiye from Egypt alone and had not had any contact with her husband who was arrested and sent back to occupied East Turkestan. Like many women who fled Chinese occupation, she doesn't know if her husband is dead or alive.
The second small business we visited was a humble shop that sold traditional Uyghur clothing, souvenirs, and quilts. The room was filled with vibrant colours and the most beautiful intricately stitched patterns.
The owner of this store was another brave woman who lived alone in Istanbul, after her husband was caught in Egypt and sent to the Chinese concentration camps.
She has two daughters back in East Turkestan; one of them is stuck in prison, while the other's whereabouts and condition are unknown. As a mother, she has had to suffer great losses and come to terms with the fact that she may never know the condition of her family or ever reunite with them.
However, she spoke about how the store provides widows with job opportunities in order to help them provide for themselves and their families. Around 5-6 widows work as tailors and textile artists.
As well as the jobs supporting their livelihoods, I was touched to hear that the women also used their wages to help cover expenses to run a traditional Uyghur café which I also had the pleasure of visiting and will speak more about in the next post.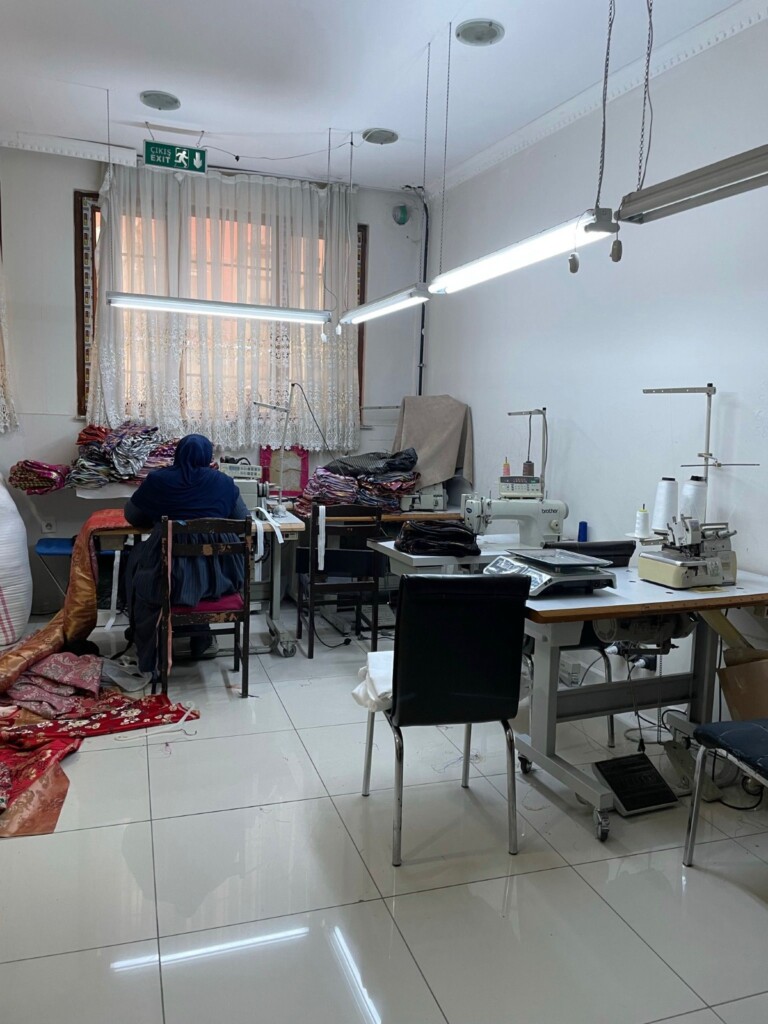 Despite the harsh losses these women face, their resolve and strength was awe-inspiring. They would welcome and embrace me with radiant smiling faces, and regardless of the hardship they faced, they were optimistic about the future and trusted Allah's plan for them.
Moreover, it was clear that the Nuzugum Foundation was a great means of support and encouragement for widows resettling and trying to build their lives after facing severe loss and trauma. The organisation provides a range of support services that direct people to Turkish language classes, Islamic studies, as well as emotional and psychological support.
Uyghur women living in exile are some of the most harshly affected by China's genocidal policies as they are left without the support of neither their loved ones, nor the ability to contact them. Alḥamdulillāh, the Nuzugum Foundation has built a network that minimises the hardship of living in exile and isolation from one's family.
In the next part of this mini-series, I recall the conversation I had with Uyghur women at the Nuzugum café run by widows, who went into great detail about their personal experiences under Chinese occupation and persecution.
Part 1 | Part 2 | Part 3 | Part 4
---
Source: Islam21c