Many news outlets are reporting the imminent release of Shaker Aamer after more than 13 years in captivity without trial by the USA. It is hoped that he is on a plane said to have left Guantanamo Bay for London only hours ago.
The curious case of Shaker Aamer
The case of Shaker Aamer has always been a reminder of the depravity and lack of integrity that lies beneath the public face of some so-called "developed" countries. It is a rare instance of where the spotlight of public awareness is charitably shone on one of the many victims of the "War o[f] Terror".
When I puzzlingly asked a legal expert once why Shaker had not been sent back to the UK after he was cleared for release by two US Presidents, he looked back at me and simply said: "because they are afraid it will turn into another Moazzam Begg."
From what we have heard about him over the last 14 years by both his friends and his captors, Shaker seems to be a man of īmān—God willing—and we look forward to his insights into the concealed business known as the War on Terror.
He will no doubt be under attack by those servile and obedient ideologists that will desperately cling onto the expired dogmas protecting their beloved elites from criticism. However, Shaker has joined the long list of alumni of the University of Yūsuf ('alayhi al-Salām), a prestigious list of believing men and women wrongly incarcerated, often due to their good works (like Moazzam Begg, Shaker was abducted and sold into US custody when he was doing charity work in Afghanistan). As a result of this we are optimistic and ask Allāh that He continue to look after his slave, in spite of the hatred of the ignorant.
Narratives surrounding the case of Shaker—who himself has been campaigning tirelessly for the rights of other captives in Guantanamo Bay—has noticeably shifted from the lens of suspicion and presumption of guilt fostered by neoconservative think tanks and ideologues, to a justice-centred exposition on the complete absence of due process and rule of law.
As we recall from when Babar Ahmed was released, our great happiness at the release of this man does not cause us to forget the underlying and enduring injustice that is the context under which false imprisonment, beating, torture and trafficking of living, human beings flourishes; which justifies the removal of countless innocent husbands, wives, mothers, fathers and even children from their loved ones.
In fact, the dogmatic grandstanding by some politicians and the draconian legislation that they so passionately campaign for is arguably on the rise, which will certainly lead to more Shaker Aamers, Babar Ahmeds, Moazzam Beggs, et al. if we, the public, do not make a stand.
But we will never be subjugated
As usual we detest presenting a victimised mentality, or to accept to be subjugated. We must be very careful not to send this message to our community.
We as Muslims recognise that since the beginning of human history, people who hold firm to the truth are subject to smears, harassment, imprisonment and other injustices. This will definitely continue because this life is a struggle between truth and falsehood, and Allāh (subhānahu wa ta'ālā) wants to see which side we strive to be upon,
"…they disputed by [using] falsehood to [attempt to] invalidate thereby the truth. So I seized them, and how [terrible] was My penalty." [40:5]
Allāh also wants to see the people who seek to promote the truth sacrificing for himself
"…And if Allāh had willed, He could have taken vengeance upon them [Himself], but [He ordered armed struggle] to test some of you by means of others…" [47:4]
So the people of truth should always be ready for this, and justice will never prevail in the whole world without their sacrifice. Their sacrifice is indeed only of the dunya in order to purchase their ākhirah.
This is a milestone in the uphill struggle of conscientious Muslims and non-Muslim activists in uncovering the well funded facade and propaganda machine fuelling the draconian War on Terror, arguably designed to polarise and create more and more conflict.
We ask Allāh to release the rest of those held illegally or wrongly without recourse to justice and due process, and to return them swiftly to their families.
---
Also read:
Mainstream media only now report conspiracy against Shaker Aamer
Why is Shaker Aamer still at Gitmo?
Last Briton in Guantanamo Bay, Shaker Aamer to be freed imminently
---
The Guardian reports the following:
[donationbanner]
---
Shaker Aamer has been released after 14 years of incarceration at Guantánamo Bay, where he was beaten by his American military jailers but never tried for any offence, the UK Foreign Office has confirmed.
According to the flight tracking firm FlightAware, a plane left Guantánamo Bay bound for London's Biggin Hill airport at 11.30pm local time (4.30am GMT).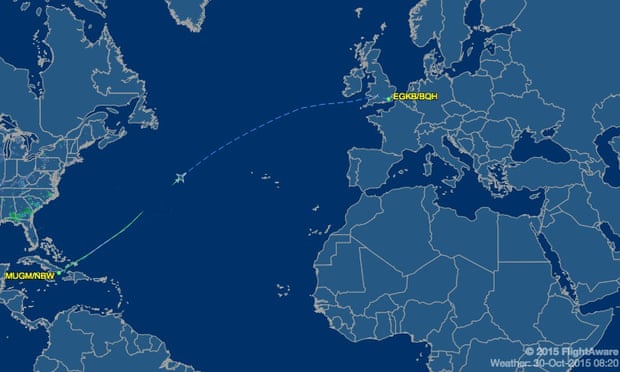 While it is unclear where Aamer will be taken on arrival, he has told his lawyers that he wants first to be given a thorough medical examination, and then wishes to see his wife. He has said that he wants to discuss his children with his wife before meeting them.
He may be questioned by anti-terrorism police or MI5 officers, but given that ministers – including the prime minister, David Cameron – had campaigned for his release, he is unlikely to need to spend his first night back on British soil in a police cell.
Though the US leaked claims – some extracted from the torture of other detainees – that Aamer fought for al-Qaida and was paid by Osama bin Laden, he was nevertried for any offence. He insists he is innocent and was working in Afghanistan for an Islamic charity when he was detained.
He has said British officials were aware – and on one occasion, present – when he was being beaten by US interrogators. The Foreign Office has said it "did not accept allegations of … complicity in his mistreatment". Whether he wishes to, or can, pursue his allegations, remains to be seen.
In January, Cameron raised Aamer's case with Barack Obama in the White House and won an assurance from the US commander-in-chief that he would prioritise the issue. An announcement that Aamer was to be released followed in September. Friday's actual release came after the passing of a mandatory 30-day notice period that has to be given to the US Congress in all such cases.
Andy Worthington, co-director of the We Stand With Shaker campaign, said he had been informed by Aamer's lawyer that he was due to return to the UK on Friday.
"We're delighted to hear that his long and unacceptable ordeal has come to an end," Worthington said. "We hope he won't be detained by the British authorities on his return and gets the psychological and medical care that he needs to be able to resume his life with his family in London.
"We should remember what a terrible travesty of justice this case has been, and that having been held in intolerable circumstances for nearly 14 years Mr Aamer will need to time to readjust to his freedom."
Judging by the descriptions given by Clive Stafford Smith, the director of Reprieve, which has been acting for Aamer over the years, and visited him more than 30 times, he will need prolonged treatment. He has been on hunger strike and held in solitary confinement.
Aamer can be expected to receive compensation, perhaps as much as £1m, as 15 other British residents and citizens were in 2010, in return for dropping a civil case for unlawful imprisonment. They abandoned their demands for evidence they said would back their case that MI5 and MI6 were involved in their rendition to Guantánamo Bay.
That year, 2010, officers from the Met police visited him at the US military jail on Cuba where they questioned his allegations of British security and intelligence agency complicity in his mistreatment. Aamer has said British officials were aware he was beaten at Bagram, the US prison in Afghanistan, before he was secretly flown to Guantánamo Bay, and on one occasion a British intelligence officer was present when US interrogators banged his head against a wall.
It is unclear whether Aamer's lawyers have advised him to agree to a confidentiality agreement and to voluntary security measures. Binyam Mohamed agreed to such measures, including regular reports to a police station, when he was released to Britain from Guantánamo Bay.
Aamer, born in Medina, Saudi Arabia, 47 years ago, is a British resident with a British wife and four British children – his fourth child, Faris, was born the day he was flown to Guantánamo Bay.
His wife, Zin Siddique, and her family live in Battersea, south London, where the MP Jane Ellison has campaigned for his release.
He was captured by what are said to be bounty hunters from the anti-Taliban Northern Alliance in Afghanistan and handed over to US forces in December 2001. Two months later, he was rendered to Guantánamo Bay.
Repeated calls by successive British governments for his release will weaken the impact of any hostile stories, or smear tactics, directed at Aamer on his return to the UK.
In May, Jeremy Corbyn met senior officials in Washington with fellow Labour MP Andy Slaughter, and former Conservative ministers Andrew Mitchell and David Davis, to try to secure Aamer's release.
Click here to view the most up-to-date version on The Guardian site along with relevant links