On Friday 29th July 2022, masjids and congregations across the world will be united in talking about and making du'a for the Uyghurs suffering genocide in East Turkestan (referred to as Xinjiang region—'new colonised land'—by the Chinese).
As part of the Stand4Uyghurs campaign, a now global coalition of over 100 mainstream Muslim organisations, khatībs and mosque leaders will be encouraging Muslims to fulfil their Islamic obligations towards their brothers and sisters suffering detainment in concentration camps, the banning of Islam and Islamic symbols, torture, forced sterilisation, forced marriage, rape, organ harvesting and a mulititude of other crimes judged to be genocide by an independent tribunal of experts last year led by Sir Geoffrey Nice QC.
Printer-friendly khutbah templates:
Demonstrations in 5+ cities across the globe
The International Khutbah Day will also encourage Muslims to attend demonstrations in more than five cities to stand in solidarity with the Uyghurs on Sunday 31st July 2022.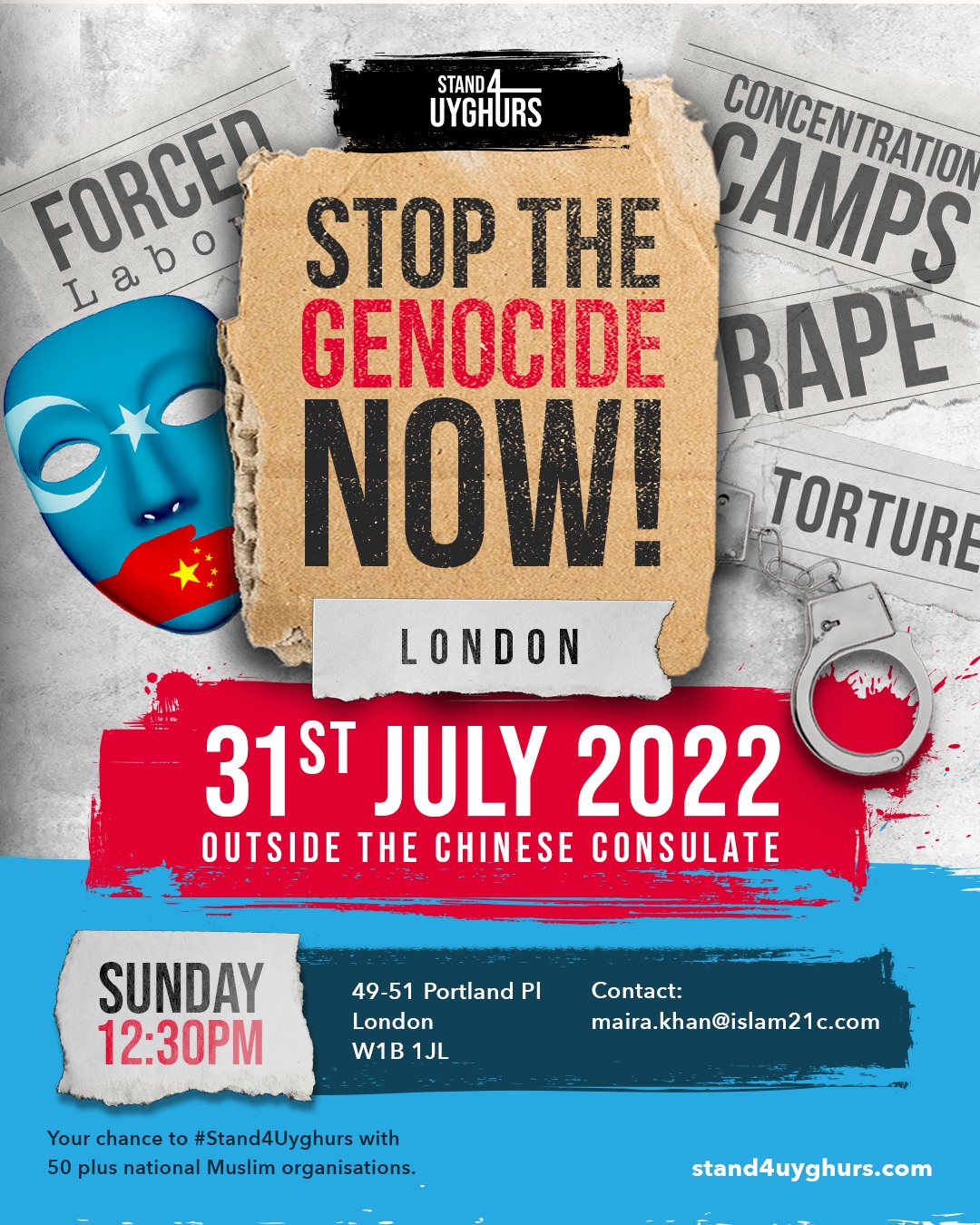 Our Uyghur brothers and sisters have asked for us to stand up for them for just one day throughout the whole year – so that we keep putting pressure on the Chinese state to realise that those they are subjecting to genocide have billions of brothers and sisters who will stand up for their rights.
Last year when Muslims gathered outside the Chinese Embassy in London and Manchester the Uyghurs felt some relief that "alhamdulillah – the Muslim ummah is with us". They felt some moral support and solidarity for the first time in decades.
They said that the Chinese Communist Party became so scared that they opened the masjids in East Turkestan for the first time in 4-5 years for Eid Salah, and forced people to go in so they could take pictures for propaganda purposes!
Visit Stand4Uyghurs.com for more information and to sign up.
Global Twitter storm this Wednesday
Ahead of the International Khutbah Day is a global Twitter storm where Muslims all over the world will tweet using the hashtag #Stand4Uyghurs to use the size and solidarity of the Ummah to make the topic of the Uyghurs too loud to ignore, encouraging people to attend the demonstrations as well as generally raise awareness about their plight.
Click here for a list of examples of tweets that can be used.