On this joyous occasion, as we commemorate the remarkable sacrifice of Prophet Ibrahim (ʿalayhi al-Salām), and reap the rewards within these blessed days, let's strive to make this Eid eventful and enjoyable for ourselves, our families, our parents, and our children.
We ought to remind one another that there is a right and a wrong way when it comes to taking part in all aspects of our lives. Being mindful of this during Eid is key to ensuring that we do not leave anyone out, or neglect our duties to our elderly folk, while ensuring that our children have the best time of their lives, and ultimately, that we make Allah as happy as we possibly can.
The Joys of Eid
This Eid, let us come together as a community and make it an occasion that our children will cherish.
Let it be filled with love, laughter, and valued memories that will remain etched in their hearts forever.
Expressions of happiness during these days are a direct sign of religiosity.
إِظْهَار السُّرُورِ فِي الْأَعْيَادِ مِنْ شِعَائِر الدِّينِ

"Displaying joy during religious festivals is from the rites of the religion." [1]
Virtues of Eid
While we reflect upon the historical incidents that occurred during the days of Eid, there are numerous virtues that come to light.
Here are a few of them.
Sacrifice: learn the profound lesson of giving something up for a higher purpose, fostering selflessness and compassion;
Gratitude: express heartfelt gratitude for the blessings in our lives and the sacrifices made by others;
Unity: embrace the spirit of togetherness, strengthening the bonds of kinship, and adopting a sense of community;
Generosity: extend acts of kindness and support to those in need, spreading joy and uplifting others.
Etiquettes of Eid
Modesty: dress modestly and neatly, demonstrating excitement and respect for the occasion and those around us;
Greetings: exchange heartfelt greetings and well wishes, spreading positivity and unity among family, friends, and the community;
Visiting: see family, friends, and neighbours, promoting connections and strengthening the bonds of kinship and community;
Sharing: spread the blessings of Eid with others through acts of charity, whether it be through donating food, clothes, or financial support to those in need;
Graciousness: be courteous in receiving and giving gifts, accepting them with gratitude and generosity;
Unity: embrace the spirit of unity and inclusiveness, recognising that Eid al-Adha brings people from diverse backgrounds together in celebration!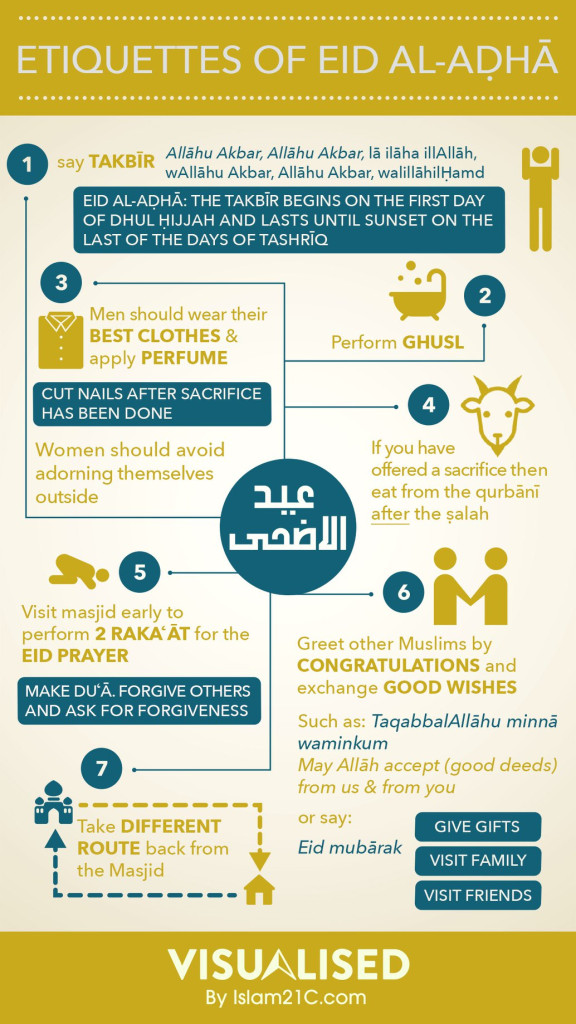 From the entire team at Islam21c, we take this blessed opportunity to wish everyone the very best Eid al-Adha.
More content you might like
---
Source: Islam21c
Notes
[1] Fath al-Bāri