Keir Starmer and his Labour Party are slowly careering into a foreign policy black-hole. He and his shadow ministers have been engaged in what can only be described as an enthusiastic endorsement of all of the war aims of the Israeli apartheid state.
At some points in these bloodied four weeks, it seemed like their enthusiasm to see the savagery of their colonial brethren in Israel was matched only by the most lunatic fringes of the American right. Such is their disdain for international norms and humanity.
Starmer began the weeks-long bondage to Israel with an unequivocal endorsement of "their right to self-defence". [1] When questioned, ever so delicately, by Nick Ferrari of LBC about endorsing a punitive siege, including the systematic starving of Palestinians, he was resolute: Israel had that right to defend itself without conditions.
It took him weeks to row back, claiming he was answering another question. [2] And this was only after an outcry and the inconvenient display of dead brown children on our news feeds.
Starmer's brutal Chatham House speech
At a speech delivered at Chatham House on 31 October, he sounded a conciliatory tone that had many liberals gushing with praise.
Yet the presentation hid a brutal message. There should be no diplomatic effort to call for a ceasefire because it would prevent Israel from exacting its revenge. He told us that cessation of the violence meted out by a brutal state would only "freeze the conflict".
In other words, the body count was insufficient to satiate Israel's wrath at this stage. [3]
For Keir Starmer, the backlash received from the Muslim community and the Labour Left only emboldens his obstinacy. He absolutely relishes where he is.
He has shown resoluteness in mirroring the US position, a test Washington will be pleased with. He has demonstrated to Israel that he is a reliable Western partner, a box ticked for any aspiring British Prime Minister. He has also shown that his party has moved on from the Jeremy Corbyn years.
And he has proven that no amount of dead brown children will alter his foreign policy thinking. This works well in the Tory shires, a part of England he needs to win over next year.
This is the Tony Blair school of politics. Nothing matters except power.
Lammy, Thornberry, Nandy
Starmer's Shadow Foreign Secretary, David Lammy — who once privately told me that he felt much of Britain suffered from structural racism — has been resolute in standing for White colonial settlers.
He recently remarked on the Today programme that the merciless bombing of the Jabalia refugee camp could be "legally justifiable". [4] Like his leader, he has maintained the "Israel has an absolute right to self-defence" line.
His Shadow Attorney General, Emily Thornberry, was asked on the BBC's Newsnight whether cutting off food, water, and electricity was in accordance with international law, and her response?
"I think Israel has an absolute right to defend itself." [5]
Shadow International Development Minister Lisa Nandy failed to answer a straightforward question about international law three times. [6]
This is unsurprising since her virtuous liberalism does not extend to dead Palestinian children. Nandy is an ardent opponent of the BDS movement [7], conflating boycotts with anti-Semitism and has openly declared herself a Zionist. [8]
These are the unsavoury and discredited politicians set to make up the next government.
Muslim Labour politicians
Then there are the Muslim MPs and leading politicians within the Labour Party.
Shabana Mahmood
Mahmood sits in Keir Starmer's shadow cabinet. She is his Shadow Justice Secretary and, more importantly, his policy director. Her role includes directing his electoral strategy.
In a previous life, she was a strong advocate for Palestinian rights. [9]
Still, since joining the "top table", barring a carefully caveated letter to constituents [10], she has remained mute, refusing to hold her leader to account publicly or tender her resignation from the shadow cabinet. [11]
Mahmood is the MP for Birmingham Ladywood, which ranks in the top ten Muslim-concentrated constituencies. [12]
Sadiq Khan
Then there's the lamentable position of Sadiq Khan.
He once privately asked me to endorse his candidacy to become an MP, claiming he would advance Muslim representation and stand up for our interests. When I queried whether that was even possible in the then-Blairite Labour Party, he scoffed that only when you entered the corridors of power would you be able to stand up for the community.
Well, here's your chance to be counted. This is what you worked "tirelessly" to achieve.
Opposing BDS and closeness with Israel's chief propagandist
As Mayor of London, Khan is the most prominent Muslim in office in the Western world.
After three bloodied weeks, he managed to send out a weakly worded message that was so full of caveats that you could only surmise it was written by a team of political lobbyists. [13]
That's unsurprising; his obsequious grovelling to the Israeli lobby started during his mayoral campaign. To engage the lobby, he showed his opposition to the Boycott, Divestment, and Sanctions (BDS) movement against Israel. [14]
He told the Jewish Chronicle in 2016,
Acting differently on Ukraine and Palestine
He also pledged not to use City Hall as a pulpit for foreign affairs, to send a signal that Palestine was off limits. [15]
Yet when Russia invaded Ukraine in 2022, his support for the latter was nothing short of comprehensive, flying its flag on the very City Hall he promised to keep free of international politics while attending numerous solidarity protests. [16] [17]
Some causes are more worthy than others.
And then there are his close ties with Israel's chief propagandist, Mark Regev, the then-Israeli Ambassador to the UK. [18]
The price you pay to have a seat at the "top table".
The entire Labour Party is rotten.
Because the party system is rotten — a well-intentioned believer can enter the system only to come out on the other side siding with the worst of oppressors.
Yet, as long as they give us Eid in Trafalgar Square, we should doff our caps and accept their crumbs!
The two main parties, Labour and the Conservatives, cannot be an option for the Muslim community, so what now?
The system
There's a frenetic amount of activity and discussion within the Muslim community about how we should vote in the probable 2024 election.
The much-needed Muslim polling company Muslim Census ran a survey that concluded that if an election were held today, Muslims would desert the Labour Party. Only 5 per cent of 30,000 respondents said they would still vote Labour. That's a drop from the 71 per cent of Muslim voters who said in 2019 they would vote for the party.
This is amongst the most significant voting blocks of a community in the UK. The Labour machinery and their client media spent a week undermining the survey, yet veteran political commentator Andrew Marr understood clearly its implications. [19]
The Muslim vote can no longer be assured, and if the block acted in unison, it could send a strong message to the Labour Party. But there remains a need to chart a clear way forward.
Some have called for establishing a new Muslim party. Others have suggested tagging our vote to the minor parties, such as the Liberal Democrats and the Greens. I want to set out why these are not thought-through propositions.
The four types of constituencies
The challenge is the framework within which the party system currently operates.
Not all areas where Muslims reside are identical, there are four types of constituencies.
Safe seats
The plurality voting system, known as first-past-the-post (FPTP), gives only two viable parties a chance to win an outright victory in England and Wales.
Minority party votes are usually wasted, and within time, voters of these parties learn to "play the game" by choosing the lesser evil of Labour or the Conservatives. The same situation exists in Scotland, but it's a fight between the SNP and Labour.
The most egregious part of the system is that most constituencies (650 in total) will never shift in any general election.
Example of Liam Byrne
These safe seats, such as Birmingham Hodge Hill, where Liam Byrne won in 2019 with 35,397 votes, dwarf his nearest Conservative competitor, who received a paltry 6,742 votes.
Hodge Hill has the largest Muslim population in the UK, with over 50 per cent Muslim residents.
Liam Byrne is a proud member of Labour Friends of Israel. He can get away with it because his seat is solid Labour, and it is unlikely to change hands anytime soon.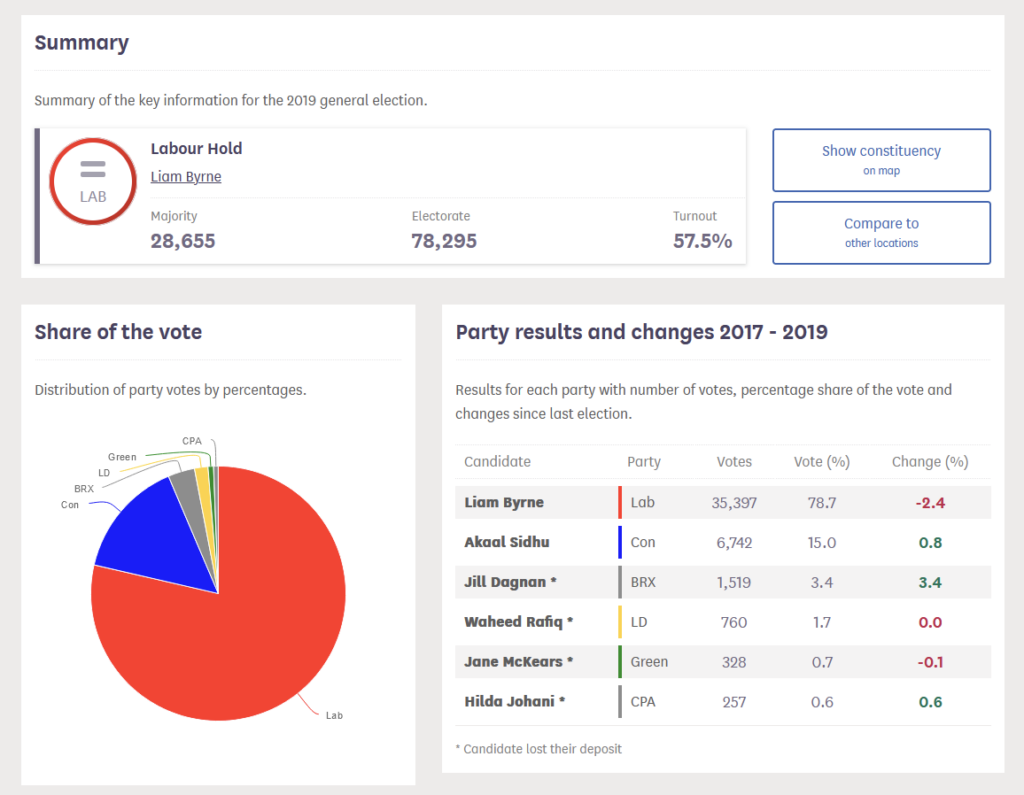 Most of the top 20 constituencies in the UK with large Muslim concentrations rank amongst the safest Labour safe seats. [20]
In other words, you cannot flip them, at least not very easily. This is the basic electoral arithmetic, which is why Keir Starmer does not care.
Furthermore, the Labour Party dominates these constituencies by offering inducements to "community leaders" and patronising a host of Muslim councillors.
Starmer does not expect to lose these seats.
Marginals
This leaves a minority of constituencies that we call marginals, where there is a prospect of the seat changing hands.
Example of Wes Streeting
There are 27,000 Muslims in Ilford North, home of Shadow Labour Health Secretary Wes Streeting. Streeting is another keen member of the Labour Friends of Israel.
In his National Union of Students days, he had been an ardent campaigner for the apartheid state, frequently no-platforming Muslims who dared to criticise Israel. [21]
When he joined Starmer's shadow team, he visited Israel and sought to construct relations with its health tech industry. [22]
Streeting won his seat in 2019 with 25,323 votes; the Conservatives came a near second with 20,105. This is a marginal seat, but still one with the prospect of only two parties winning. The Muslim vote, if unified, can undermine Labour in Ilford North and provide a "Portillo moment" on election night. [23]
Labour is widely expected to be on course for a large majority if the election is held next year.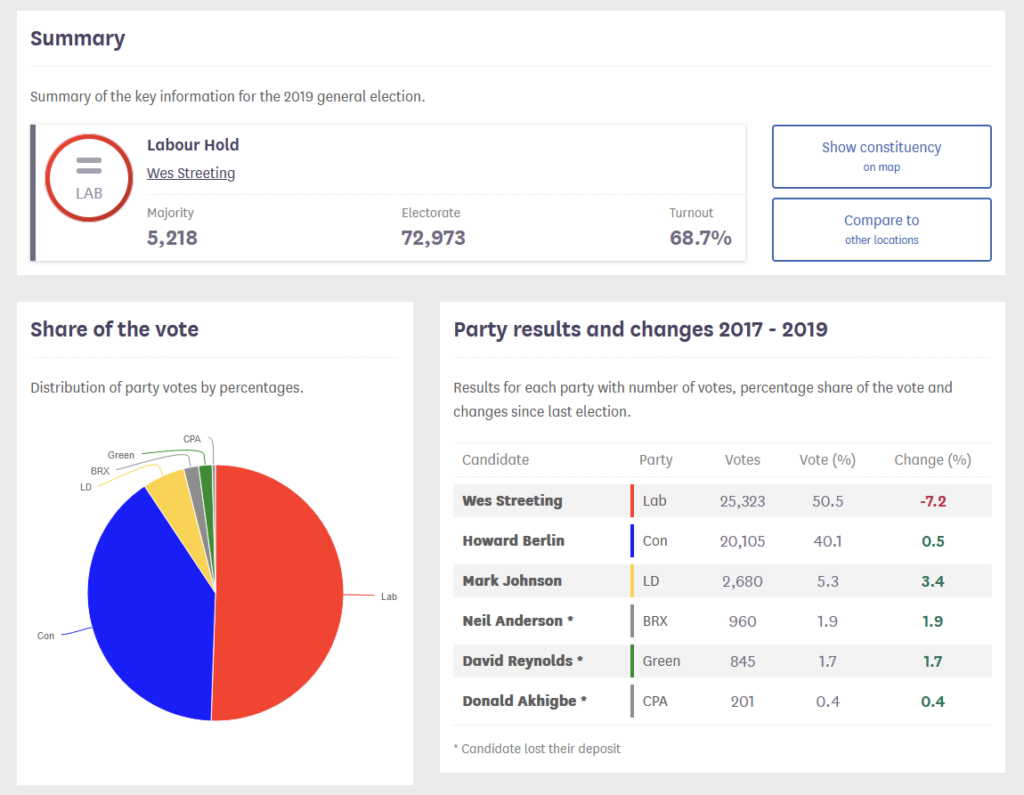 Example of Jess Phillips
Similarly, in Birmingham Yardley, the seat of Jess Phillips, there are 41,435 Muslims.
Phillips has a 2019 majority of 10,659.
Muslim voters, if they worked in unison, could undermine her vote. An independent candidate can win this seat based purely on Muslim votes.
Marginals, but with a minor party
Example of Finchley and Golders Green
Some seats are marginals, but not between the two major parties.
Finchley and Golders Green typifies such a seat.
In 2019, it became a three-way marginal when the Liberal Democrats came second. That was an unusual election because a Labour defector (a staunch advocate for Israel, Luciana Berger) stood as a Liberal Democrat. [24] She split the left-leaning vote and enabled the Conservatives to snatch the constituency.
With a national swing in their direction, Labour believes that they will comfortably take this constituency by reducing the Liberal Democrat vote.
Muslims make up 10 per cent of the area, and if they focused their attention on an independent candidate, they could, at the very least, scupper Labour's hopes.
But this would mean accepting a Conservative win. Mike Freer is equally reprehensible in his views on Gaza and Palestine.
Seats where an established minor party can win
Example of Bristol West
There are seats like Bristol West, where there is a possibility the seat can change hands if the sizeable Muslim community puts their weight behind, in this case, the Green Party.
Although the numbers remain very tight, there is a theoretical chance here. I received messages from Bristol's Muslims, who concluded that it's their best option to vote Green.
My view is that this is not ideal because the Green Party are socially the most liberal of the parties, and we shouldn't lose sight of the great harm this agenda is having on our children. On every vote that further liberalised, say, trans rights or civil marriages, the Greens have been champions of that change.
They are also strong proponents of self-identification, allowing a man to become a woman based on filling in some basic paperwork.
I do not believe voting Green makes sense for Muslims looking to assert their priorities, even if many of their members are pro-Palestine. [25]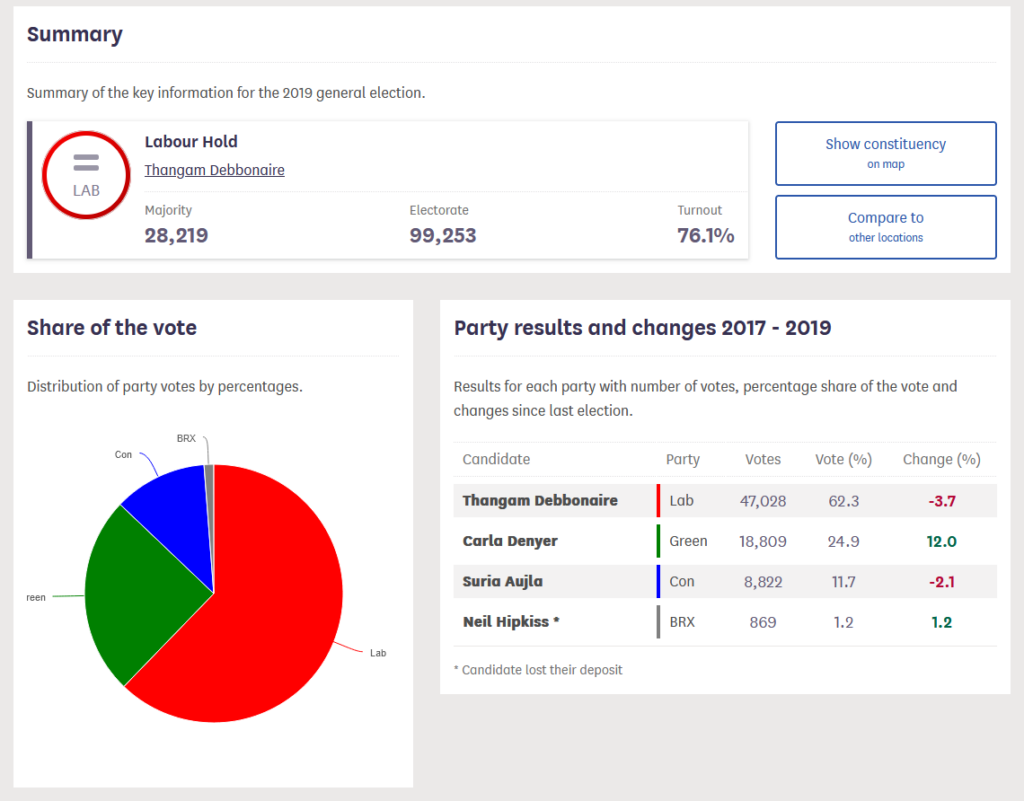 Independent candidates
The way forward is to run independent Muslim candidates in ALL these seats.
There's no other way to register your disagreement with the established parties in the UK system. There are no "None of the above" boxes to tick on a ballot paper.
There is little chance we can decapitate Labour. Still, we can reduce their majority and send a clear message on election night — that the Muslim community will no longer play their ridiculous party political game and are ready to take a stand.
The aims of a campaign, with independents in every substantial Muslim-populated constituency, should be to:
Undermine the Labour vote and cut their overall majority.
Utilise the publicity offered in an election campaign to raise the duplicity of the established parties over Gaza.
Register our disappointment and disapproval of the political class by casting our vote in unison for Muslim independents.
Some or all of these objectives are available in each constituency within which Muslims reside in substantial numbers.
All three aims can be safely achieved in Ilford North and possibly in Birmingham Hodge Hill, and Ladywood. In Bristol West, points 2 and 3 are achievable. In all likelihood, Bristol's Labour MP will be returned, but an independent candidate will register our disapproval numerically.
The Green Party is going to focus on issues other than the duplicity of the political class on Gaza; our voice will be subsumed within their broader manifesto aims.
We are a four-million-strong community in the UK; if the majority of Muslim voters cast votes for independent candidates, then this would send shock-waves on election night.
Why not a national Muslim party?
The media and political class will try to undermine this grassroots movement.
They will label it as a fifth column, trawl through the candidates' social media to find something with which to malign them, and freshly deposed Home Secretary Suella Braverman will try to traduce this movement as a means to launch her leadership bid when the Tories are defeated.
Working on localised campaigns with articulate local campaigners is better in this febrile environment.
Also, a party requires people to lead it and national teams; if this is the next step, it is better for these to emerge organically over time through local campaigns.
Learning from UKIP
UKIP, while it was an electoral force, was the most unsuccessful party in electoral terms but managed to change the public debate and ultimately achieve its goal of leaving the EU.
In 2015, their leader, Nigel Farage, showed the political class that he was a force to be reckoned with by winning 3.8 million votes yet only returning one MP (a Tory defector).
The party's success in changing the narrative was to act as a pressure group within the political system, and that is why all the mainstream political parties, to win back disenchanted voters, had to appeal to UKIP's core issue, Europe.
For sure, UKIP represented a form of White xenophobia, and so their message was far more acceptable to the mainstream. But the model is important; after years of working within the party system, they recognised its limits and became a political insurgency.
This approach requires much more elaboration, which I plan to do. But it was successful because it became a magnet for disenchanted voters and undermined pro-EU candidates in their constituencies.
One of the ways we can display our political weight as a community is to use our vote to scupper their electoral chances.
Working with the left
Let me start by saying that there are plenty of decent people of conscience on the left of British politics. And that what we call "the left" is a series of splinter movements, many of whom despise one another.
Many of these groups have troubling agendas that we must be mindful of. The left will try to capitalise on Muslim disenchantment. It is a simple fact that the left is a spent force in UK politics; various groups have put forward independents for decades, and most have failed to get their deposits back due to a shortage of votes.
We do not need to play second-fiddle to their agendas.
That is not to say we should disregard them; many have powerful sentiments towards justice, but we must bring them under our umbrella.
Many on the left, whilst championing the Palestinian cause, would equally support Bashar al-Assad in his equally horrible slaughter of Muslims in Syria. They would support Russia's carpet bombing of Idlib and other Syrian cities as valiant "anti-imperialist struggles". They also deny the Uyghur genocide, claiming the United States made it up to undermine China's rise. [26]
We have to stay principled. If we are to build alliances, it has to be on our terms. We must realise the potential of our numbers as a Muslim community.
Let's work together
I have been heartened by the strength of feeling within the Muslim community in the UK and the unified view that Labour is a party we can no longer trust.
Let's move forward together to work out how we should proceed.
I seek your ideas, criticisms, and thoughts about making this strategy work. What we do not need at this stage are simple-minded solutions. We have less than a year to get our strategy right.
There's amazing talent in our community, especially within our young minds. Let's make a lasting change.
---
Source: Islam21c
Muhammad Jalal can be found on Twitter/ X @jalalayn
Notes
[1] https://www.youtube.com/watch?v=5HQYfsUAf3s
[2] https://twitter.com/ITVNewsPolitics/status/1715309817110110433
[3] https://www.youtube.com/watch?v=tGwEhUCpGjE
[4] https://x.com/Majstar7/status/1719640100554912241
[5] https://x.com/BBCNewsnight/status/1712401412120879271
[6] https://twitter.com/jalalayn/status/1716045444831162704
[7] https://www.lfi.org.uk/lisa-nandy-reaffirms-labours-opposition-to-bds/
[8] https://electronicintifada.net/blogs/asa-winstanley/candidates-replace-corbyn-denounce-him-anti-semitic
[9] https://m.facebook.com/shabanamahmoodforladywood/videos/216456610317202/
[10] https://x.com/MrMufc77/status/1718732487713550570
[11] https://x.com/jalalayn/status/1718043857424724051
[12] https://x.com/jalalayn/status/1717171903654203495
[13] https://www.independent.co.uk/news/uk/mayor-israeli-gaza-london-hamas-b2429303.html
[14] https://fathomjournal.org/london-calling-why-mayor-sadiq-khan-is-good-for-the-jews-2/
[15] https://www.thejc.com/news/uk/sadiq-khan-why-i-changed-my-mind-about-boycotts-1.61076
[16] https://twitter.com/MayorofLondon/status/1507644249596170245
[17] https://twitter.com/MayorofLondon/status/1606316647974936576
[18] https://mpacuk.org/2016/05/08/sadiq-mark-regev/
[19] https://x.com/MuslimCensus/status/1720042457214153067
[20] https://x.com/jalalayn/status/1718768735744340166
[21] https://www.thejc.com/education/student/wes-streeting-our-friend-at-the-nus-1.12038
[22] https://www.lfi.org.uk/analysis-wes-streeting-visits-israel-with-lfi/
[23] https://en.wikipedia.org/wiki/Portillo_moment
[24] https://www.lfi.org.uk/luciana-berger-joins-lfi-parliamentary-candidates-delegation-in-meeting-president-herzog/
[25] https://lgbtiqa.greenparty.org.uk/resources/the-truth-about-the-gra/