The newest icon of Palestinian resistance against the Israeli Occupation, the heroic child in the onion mask; young demonstrator Mohammad Ayyash. Seen wearing a mask containing an onion stalk during the March of Return protests is Palestine's newest hero and mark of struggle against the Zionist Occupation.[1] In a unique interview with Al Jazeera Arabic, Mohammad said that he does not fear Israeli Occupation Forces, despite last week's protests near the fenced Gazan border with 'Israel' resulting in the execution of at least 17 Palestinians and the wounding of around 1,400 others.[2]
Mohammad told Al Jazeera that his onion mask was inspired by the legendary stories passed down by his father. His father's accounts told him how his fellow Palestinian protestors of old used onion masks to defy the endemic Israeli use of devastating tear gas during the first Intifada of December 1987 in which around 2,000 Palestinians were killed.
Mohammad added that his participation in the March of Return protests in the East of al-Bureij Refugee Camp in Gaza last Friday was to insist on the liberation of his land and that of his forefathers and to restore his family's dreams of return. He insisted that he is fearless when encountering Occupation Forces despite their weapons and snipers, describing them as 'cowards' who have no right over the Land of Palestine.
On Sunday, Head of Hamas' Political Bureau, Ismail Haniyeh rewarded Mohammad and his family for their display of bravery and sacrifice, praising their courage and that of other families that cultivated dignified children such as Farid Odeh, the young boy who defied the Israeli Mirkava with rocks; Ahed Tamimi, the detained young girl of the Nabi Saleh village who confronted infiltrating Occupation Forces and the iconic Gazan boy, Mohammad al-Durra, executed in cold blood in September 2000.[3]
---
---
Faris Odeh – confronting a 70 tonne Israeli Mirkava Tank, killed in cold blood
Mohammad al-Durra – killed by Israeli Occupation Forces in September 2000.
The Ayyash family has been displaced from the ethnically cleansed, historical town of Jaffa, famous for its enchanting naval orange groves and once home to 120,000 Palestinians. Around 15% of all Palestinians trace their origins to the town of Jaffa.[4] Mohammad has become the emblem of this episode of resistance, an inspiration and illustration of the generations yet to come.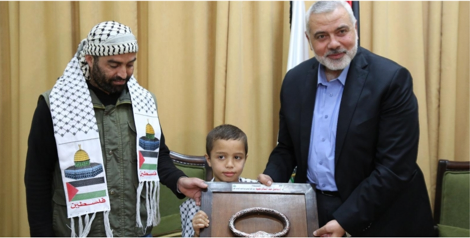 Chief of Hamas Political Bureau Ismail Haniyeh received Mohammed Ayyash at his office
---
Source: www.islam21c.com
Notes:
[1] http://www.aljazeera.net/news/arabic/2018/4/2/محمد-عياش-بطل-غزة-الصغير-المقنع-بالبصل
[2] https://www.islam21c.com/news-views/bbc-condemned-over-reportage-of-massacre-of-protesters/
[3] http://alresalah.ps/ar/post/179881/هنية-يلتقي-الطفل-عياش-أيقونة-مسيرة-العودة-الكبرى
[4] https://www.aljazeera.com/news/middleeast/2014/03/gentrification-jaffa-israel-palestine-20143692621437677.html
Ahmed Hammuda is a regular contributor at Islam21c. His interests lie in Qur'anic Tafsir and the field of Middle East Affairs and how they reflect on Muslims living in the West. He is an Electrical Engineer by trade and has been involved in various Da'wah activities over the course of his education and working life. He has transferred the same analytical approach required in engineering into a careful and measured approach in his views and positions.