In the worst ongoing period of violence between Israel and Gaza since the Gaza Massacre of 2008-9, allegations have emerged suggesting the deadly combined use of white phosphorus and vacuum bombs by Israeli forces. [1]
The conflict has already exacted a heavy toll on both sides — with over 1,000 Gazans and 800 Israelis killed, and the war continues to cause significant damage to people, land, and risks destabilising the wider region. [2]
How harmful is white phosphorus?
White phosphorus is a highly incendiary substance that causes severe burns right down to the bone; as a result, it can be deadly when coming into contact with human flesh or livestock. [3]
While it is not illegal to use the substance in order to produce smokescreens or to mark targets, its use in populated areas can have catastrophic consequences.
The substance can ignite buildings and cause extreme harm to civilians, and its use in densely populated areas is subject to internationally agreed conventions.
Where white phosphorus creates fires and burns, the extreme resulting heat of over 800 °C can often be challenging to extinguish. Those who initially survive a white phosphorus attack may ultimately succumb after experiencing organ failure. [4]
Not the first time Israel has employed such barbarism
During the Gaza Massacre of 2008-9, Israel faced extensive international criticism for its use of white phosphorus in populated civilian areas.
The conflict, known as Operation Cast Lead, resulted in the loss of over 1,400 Palestinian lives, many of them civilians.
At that time, similar concerns were raised regarding the indiscriminate use of white phosphorus, which led to severe injuries and fatalities.
The Israeli military repeatedly denied using the substance in an illegal manner, but many including Human Rights Watch concluded that civilians were directly targeted. [5]
What about the use of "vacuum bombs"?
This term typically refers to thermobaric weapons, which utilise a combination of oxygen from the surrounding air and a flammable substance in order to create a devastating explosion with a massive shock-wave.
The use of such weapons, in overcrowded urban areas like Gaza, results in a high number of casualties and extensive property damage, often leading to the levelling of entire buildings.
These munitions, which release a cloud of explosive gas that is then ignited, result in a rapid depletion of oxygen in the surrounding atmosphere, leading to intense pressure waves that can collapse buildings, damage vital infrastructure, and cause significant harm to individuals caught in their path.
ANALYSIS
---
The alleged use of white phosphorus and vacuum bombs by Israel in Gaza is nothing short of appalling and should be categorically condemned by the international community.
To deploy such insidious weapons in densely populated areas is not just a reckless disregard for human life; it's a brazen violation of international law. The horrifying characteristics of white phosphorus — causing skin to burn down to the bone — are well-known, and its use in civilian-populated areas can only be described as an act of sheer barbarism.
Furthermore, vacuum bombs are indiscriminate killers, wreaking havoc on both people and property. That such weapons could be used again after their terrible impact in the Gaza Massacre of 2009 is a damning indictment of the international community's failure to hold Israel accountable.
The repetition of these crimes only exposes the systemic and premeditated brutality meted out to the Palestinians, as well as the gaping void of accountability that allows Israel to act with seeming impunity. It's not just a tragedy; it's an ongoing crisis that screams for immediate intervention. Yet, Western governments continue to display a staggering level of hypocrisy with their one-sided approach, providing military aid and political cover to Israel, thereby making them complicit in these atrocities. The consistent failure to act against Israel's use of lethal and prohibited weaponry in civilian areas is a blatant miscarriage of justice that further entrenches the tragedy unfolding in Palestine.
We vehemently condemn these actions and urge global powers to finally put an end to this flagrant and sustained violation of human rights. Empty condemnations are not sufficient. It's high time that international powers pursue immediate measures to end this oppression. If the world turns a blind eye to such atrocities, we are all complicit. We unreservedly stand with Palestine and implore others to take a stand, pushing for a durable and just solution that protects innocent lives and ends this horrific cycle of violence.
---
We are with Palestine
As the world watches and concerns continue to mount over Western governments and their one-sided approach to the latest Israel-Gaza war, there is a growing need for dialogue and diplomacy to prevent further loss of life.
Fears remain that the Israeli military may yet choose to attack Jerusalem and the beloved mosque and sanctuary of al-Aqsa.
One thing is for certain, the recent casualties and allegations of prohibited weaponry use underscore the urgent need for a lasting and peaceful resolution to the Israeli-Palestine conflict.
Until a comprehensive solution is found, the cycle of violence and suffering will continue to haunt the region.
Make a difference; fight false narratives
Stand with Palestine and make a statement!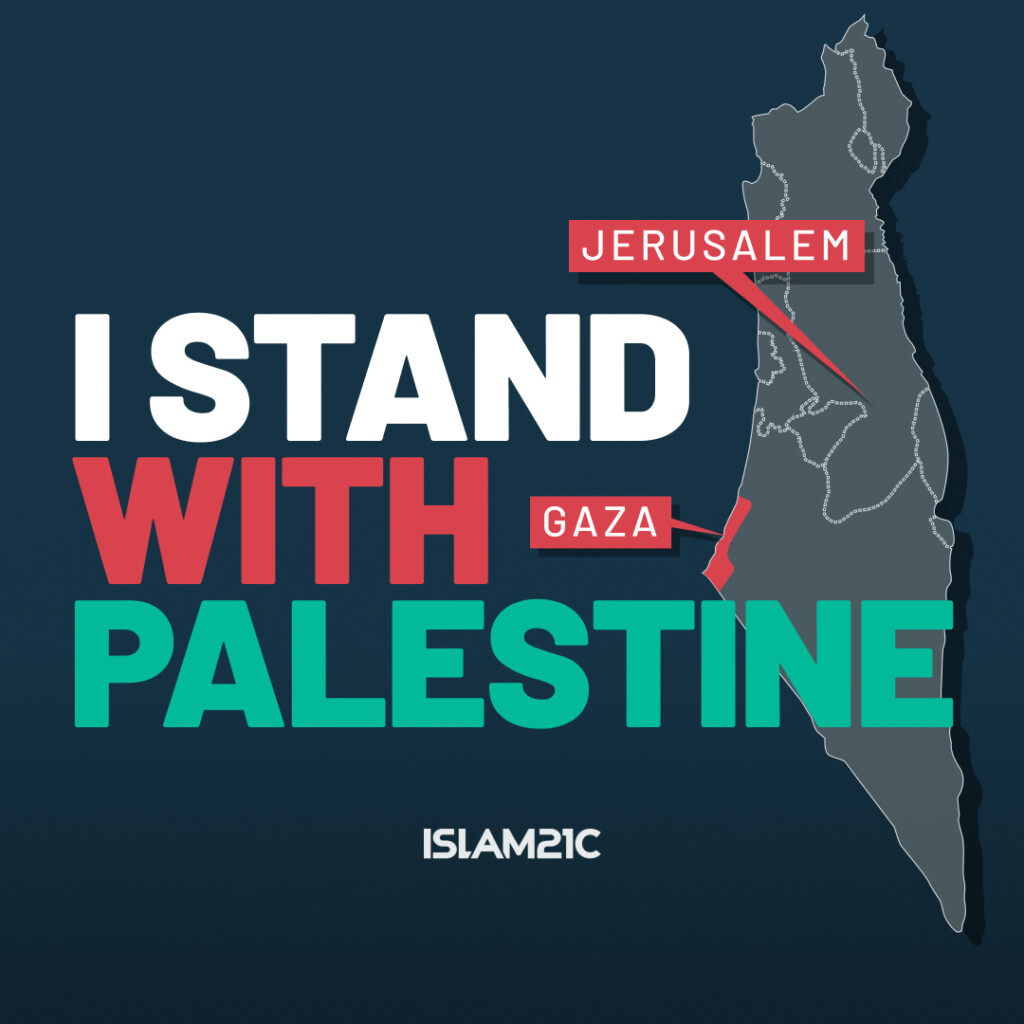 It's more important than ever to show our support for the people of Palestine.
Islam21c invites you to update your social media profiles with the image above (or below). Let's use our platforms to raise awareness, spark conversations, and call for justice.
How to use them:
1️⃣ Save the "I Stand with Palestine" image above, or this one.
2️⃣ Update your profile picture or cover photo across your social accounts.
3️⃣ Use the hashtag #IStandWithPalestine in your posts.
Remember, it's not just an image; it's a message, it's solidarity, it's a call to action. Together, we can make a difference, inshāAllāh.
---
Source: Islam21c
Notes
[1] https://timesofindia.indiatimes.com/world/middle-east/is-israel-using-white-phosphorus-weapons-in-gaza-again/articleshow/104320309.cms
[2] https://www.aljazeera.com/news/2023/10/9/death-tolls-soar-as-fighting-between-israel-and-hamas-rages
[3] https://www.wionews.com/world/what-are-white-phosphorus-bombs-that-israel-reportedly-launched-in-gaza-it-is-legal-to-use-645106
[4] Atiyeh, BS; Gunn, SW; Hayek, SN (31 December 2007). "Military and Civilian Burn Injuries During Armed Conflicts". Annals of Burns and Fire Disasters. 20 (4): 203–215.