In 2003, a motion to twin Preston with the city of Nablus was tabled and debated by Preston City Council.  It was a motion which was proposed by a good friend of mine, Councillor Michael Lavalette.  It was one of the most tense and lively debates that I ever had the pleasure of witnessing. However, sadly, and as a result of political collusion by certain parties, it was narrowly defeated.  The late Tony Benn, a champion of the Palestinian cause, stated at the time that "A friendship between the peoples of Britain and Palestine is absolutely essential to maintain their morale and help them to realise that they are not alone in their struggle for justice."[1] If there was one thing that even critics of Tony Benn could not argue was that he was a man of immense moral standing and a true champion of just causes.  In fact, I was truly honoured that subsequent to the twinning motion I had some limited communication with Tony Benn due to his support of a local campaigning group called 'Children of the Ghetto' which I helped establish.
Subsequent to the twinning motion, the Palestinian Authority were so impressed by our humble efforts that we were invited to Palestine as their guests.  The trip to Palestine in 2004 was a trip of a lifetime.  We were part of a large delegation that visited Palestine as guests of the Palestinian Authority.  There were countless memories that will live with me for the rest of my life, however one which sticks in my mind was visiting the Holocaust Museum in Jerusalem.  It was a vivid reminder of the suffering of the Jewish people.
Fast Forward to February 2017
On the 22nd February 2017, I was informed that the University of Central Lancashire had cancelled a pro-Palestine meeting titled, 'Debunking Misconceptions on Palestine', organised by the UCLan Friends of Palestine Society.[2]  I was staggered to learn that the reason for the cancellation was that the university had deemed the event as being anti-Semitic.  However, I was instantly able to put the whole matter into some perspective when I learnt that Professor Michael Lavalette was a speaker at the meeting.  There was not a chance on earth that he would be involved in anything which could ever be deemed as anti-Semitic.
---
Also read: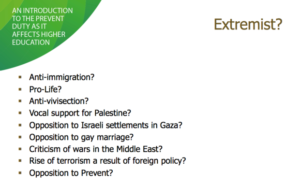 New anti-Semitism definition + Prevent training = Palestine talk banned at university
---
The truth was rather more sobering.  Based on its statement, the university had decided that it was anti-Semitic because "by linking the event to Israel Apartheid Week 2017 the context moves away from pro Palestinian to anti Israel".   This is, according to university management, consistent with their statutory obligations under Prevent, and in line with the government support for adopting the International Holocaust Remembrance Alliance's (IHRA) definition of anti-Semitism.[3]
The IHRA have very kindly provided working examples of what constitutes anti-Semitism.  Many of which, I absolutely and utterly agree with.  These examples more often than not, explicitly identifies the religion of Judaism or its followers, Jews, as the victims of behaviour which can unanimously and unambiguously be described as unacceptable.  However, some examples are far more contentious in their nature due to their direct link and association with the state of Israel.  Without getting into some of the finer and detailed arguments, there is a school of thought which refutes the position that being critical of Israeli policy is akin to anti-Semitism.
Nevertheless, reading the numerous examples cited by the IHRA definition of anti-Semitism, it is hard – nay, impossible – to fathom the grounds in which UCLan have deemed the pro-Palestinian meeting as being anti-Semitic. Regardless, the logic which is stated to have been applied goes something like this:
UCLan understand and accept that the meeting is pro-Palestine.  However, because it is happening during 'Israeli Apartheid Week' it is now deemed to be anti-Israel (Extrapolation number 1).  Now that the meeting, in the world according to UCLan, is 'anti-Israel', it must also follow that it is by default also anti-Semitic (Extrapolation number 2).
The problem with such a misguided interpretation of the definition, is that it demeans and devalues true anti-Semitism.  Actual anti-Semitism, similar to all forms of discrimination and prejudice, is abhorrent and unacceptable.  However, by using it as a means of justifying the suppression of free speech, devalues the true meaning of the word.
Besides it is a fruitless exercise to try and hide behind misinterpreted and flawed definitions when the truth is not hard to find.  The government have told universities to crack down on activities related to Israel Apartheid Week.[4] As a result of this directive, numerous universities, such as University College London UCL, Exeter and UCLan have come in to line and have cancelled events happening next week.[5] It is certainly a sad state of affairs, when healthy political discourse and debate within a safe university environment are stifled due to political agendas.  Additionally, to rub salt in to the wounds, many are slandered through false accusations of anti-Semitism.
In 2009 the BBC shamefully refused to air a DEC (Disasters Emergency Committee) appeal for Gaza.  Being the champion of Palestine that Tony Benn was, he famously and defiantly made the appeal himself, live on the BBC Today programme.[6] Similarly, the campaigning group 'Children of the Ghetto' are going ensure that pro-Palestinian voices are heard by hosting the meeting which UCLan had banned.[7]
The University of Central Lancashire deemed the meeting to be 'unlawful' based on the flawed arguments already cited.  If that was the case, and quoting Charles Dickens from the novel Oliver Twist – then 'the law is an ass'.
[donationbanner]
---
Source: www.islam21c.com
Notes:
[1]  http://www.pressgazette.co.uk/tony-benn-hijacks-bbcs-today-to-make-gaza-appeal/
[2]  http://www.timesofisrael.com/citing-anti-semitism-uk-university-nixes-israel-apartheid-week/
[3] https://www.holocaustremembrance.com/sites/default/files/press_release_document_antisemitism.pdf
[4] http://www.telegraph.co.uk/education/2017/02/24/universities-warned-anti-semitism-ahead-israel-apartheid-week/
[6]  http://www.pressgazette.co.uk/tony-benn-hijacks-bbcs-today-to-make-gaza-appeal/
[7] https://www.eventbrite.com/e/debunking-misconceptions-on-palestine-and-the-importance-of-bds-tickets-31975462469?utm-medium=discovery&utm-campaign=social&utm-content=attendeeshare&utm-source=wa&utm-term=listing