According to mainstream reporting on the appalling Friday incident in Paris, the suspect was a lone wolf, he had mental health difficulties, he was not a Muslim, and he was not a foreigner. [1]
This ultra-slick reporting of the aforementioned points is so consistent in approach through almost all of the usual news outlets – on any part of the political spectrum – that one would be hard pressed to find a single mention of the shooting being considered an act of terror.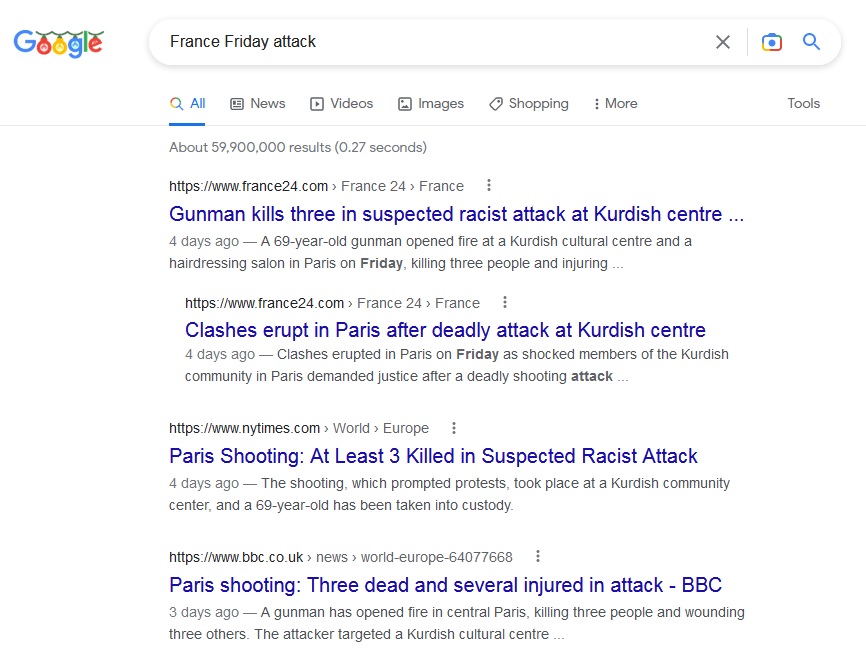 The public prosecutor for Paris, Laure Beccuau, said on Sunday that the suspect had a "hatred of foreigners that became totally pathological". [1] Why then, was the man released from prison after awaiting trial for a sword attack on a refugee camp a year prior?
These are precisely the questions that should be asked, but are being brushed over by the media, the police, and the French government.
---
---
Suspect with a Muslim-sounding name? Clearly a terrorist
Whereas, in the case of alleged Muslims being blamed for acts of terror, information is rapidly trickled down into the minds of the public, with tidbits such as the Muslim-sounding name and the foreign/ immigrant background of the suspect, such details are not forthcoming in this incident.
According to the most recent reporting by France24, the suspect has already expressed being "depressive and having suicidal tendencies". In addition, he was moved to a psychiatric unit for evaluation on Saturday, before being discharged back into police custody. [1]
Untruthful reporting
According to one of Europol's annual reports on terrorism, TE-SAT or the Terrorism Situation and Trend Report, 2021 figures show that the most common kind of terrorism was "ethno-nationalist and separatist terrorism" at 71 incidents. This grouping is followed closely by "left-wing and anarchist terrorism" at 58 incidents, and "right-wing terrorism" being responsible for 44 cases. [2]
According to the TE-SAT data, so-called "jihad terrorism" accounted for 21 incidents last year. And despite the above figures speaking for themselves, it does not help when officials in law enforcement and government claim otherwise. Indeed, in the same report by Europol, the Executive Director, Catherine De Bolle, states,
"The findings of the TE-SAT 2022 confirm that lone actors associated with jihadist and right-wing violent extremism remain the biggest threat associated with potential terrorist and violent extremist attacks in the EU." [2]
According to some news reports, the suspect in Friday's terror attack – and it is certainly a terror attack because members of the Kurdish community have been left frightened and fearful for their safety, and three people were killed with a further three injured – was a gun enthusiast and had prior convictions for weapons offences. However, this was evidently not enough of a red flag to the French counterterrorism police and intelligence authorities to keep him under observation. [3]
When one sees Muslim rights being eroded in France, mosques being ordered to shut down, imams being prevented from preaching, and the president describing Islam as being "in crisis", ask yourself the question, why does the mainstream media see it fit to report on Friday's terror attack as merely a "shooting" by a "gunman"? Why is it not reported on truthfully? One could argue that this kind of reporting is precisely what is fuelling anti-Muslim sentiment in the continent.
Also read
---
Source: Islam21c
Notes
[1] https://www.france24.com/en/france/20221225-suspect-in-deadly-attack-on-paris-kurds-transferred-to-psychiatric-unit
[2] https://www.europol.europa.eu/cms/sites/default/files/documents/Tesat_Report_2022_0.pdf
[3] https://www.aljazeera.com/news/2022/12/26/turkey-summons-french-ambassador-over-anti-turk-propaganda