Here is a thought experiment: Suppose that while the demonstrators stood solemnly at Place de la Republique the other night, holding up their pens and wearing their "je suis charlie" badges, a man stepped out in front brandishing a water pistol and wearing a badge that said "je suis cherif" (the first name of one of the two brothers who gunned down the Charlie Hebdo staff). Suppose he was carrying a placard with a cartoon depicting the editor of the magazine lying in a pool of blood, saying, "Well I'll be a son of a gun!" or "You've really blown me away!" or some such witticism. How would the crowd have reacted? Would they have laughed? Would they have applauded this gesture as quintessentially French? Would they have seen this lone individual as a hero, standing up for liberty and freedom of speech? Or would they have been profoundly offended? And infuriated. And then what? Perhaps many of them would have denounced the offender, screaming imprecations at him. Some might have thrown their pens at him. One or two individuals — two brothers perhaps — might have raced towards him and (cheered on by the crowd) attacked him with their fists, smashing his head against the ground. All in the name of freedom of expression. He would have been lucky to get away with his life.
Masses of people have turned the victims of a horrific assassination (which the staff of the magazine truly are) into heroes of France and free speech. The point of the thought experiment is not to show that such people are hypocrites. Rather, it is to suggest that they don't know their own minds. They see themselves as committed to the proposition that there are no limits to freedom of expression: no subject so sensitive, no symbol so sacrosanct, that it cannot be sent up, sneered at and parodied, consequences be damned. They call this "courage" and they think it is the defining difference between them and the killers – and not just the killers but anyone who thinks there are limits to what can be said or printed. But they too have their limits. They just don't know it.
Continue reading at Mondoweiss here
Reactions to Charlie Hebdo
The Charlie Hebdo shootings have provoked a storm of sensationalist reactions from opportunists across the spectrum. At Islam21c we have been working hard to sift through the rhetoric and find reasoned analysis from all quarters – links are available below to read. Don't forget to like, comment and share! To keep up with the latest articles on Islam21c.com subscribe to our mailing list here
We also direct your attention to the seminal report written by Prof. Arun Kundnani since empirically-refuted connections are being made left, right and centre, between these shootings and the shooters' incidental ideology – read the ground-breaking report that shows that Extremism does NOT cause terrorism: A Decade Lost; Rethinking Radicalisation and Extremism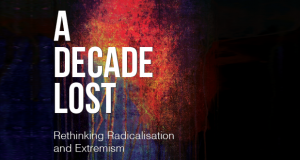 Also read:
Visit our dedicated page to #CharlieHebdo with all our hand-picked content here
The views expressed on Islam21c and its connected channels do not necessarily represent the views of the organisation.