Part 1 | Part 2 | Part 3 | Part 4 | Part 5 | Part 6 | Epilogue
So I'm in Qatar for the 2022 World Cup with my two older brothers, having arrived on the morning of Friday, 18th November. I love my football, I've watched matches all over England and across Europe to experience the different ways in which distinct cultures are engrossed in the beautiful game. This is the first time I've ever been to an international tournament. I'm really excited and cannot wait for the first ball to be kicked. Admittedly, the tournament being in a Muslim country is a bonus for me.
In the lead-up to the tournament, there has been much consternation about Qatar hosting the World Cup – mainly from Western media, if we are honest. Criticisms thrown at the Qataris include the decision to move the tournament from its traditional summer slot in June to winter in late November/ December; the way migrant workers are treated; and the manner in which certain groups are affected, namely the LGBTQ community.
Since I've been in Qatar, I've been reading the stories published back home in the UK. The tournament does not seem to have the same fanfare that we normally get going into previous tournaments. It almost appears that some people want this tournament to fail.
There have been a lot of negative stories, for example: on the state of the accommodation, certain famous people not attending this World Cup, from German great Philip Lahm to the man who sang Football's Coming Home and other famous people being criticised for advertising the tournament.
Other far more erudite and intelligent people have responded to the hypocrisy in the recriminations against holding a World Cup in Qatar.
I'm actually fine with the idea that sports are political. Yes, it should be absolutely appropriate to ask questions about the human rights record of any country you visit, as raised with Russia hosting, and now with Qatar. Be consistent though #WorldcupQatar2022

— Dr Asim Qureshi (@AsimCP) November 4, 2022
However, the purpose of this series of articles is the reflections of a football-mad fan's own personal experiences. I'm here for ten days, watching three group games, including Argentina v. Mexico, so I'm getting to watch the GOAT (greatest of all time) in his natural habitat.
Preparations
The preparations for my trip to the World Cup started back in March 2022, when my brother went through the process of buying tickets online. It took him over 8 hours to purchase the tickets but we managed to get three apiece. We then booked our flights and accommodation, which was fairly easy. We then had to go through the process of getting a Hayya card – the entry permit needed to get into Qatar for the World Cup. The applications opened in May and we were accepted within a few days of making our application. So far, so smooth.
Fast forward to November 17 as we get ready to fly to Qatar's capital, Doha. I was apprehensive about my journey to Qatar. Neither because of Qatar itself, nor do I have a fear of flying, but I was worried about my plans being derailed by a dreaded Schedule 7 stop. I, like many of you, have heard the stories of people being stopped under Britain's Schedule 7 counterterrorism powers and subsequently missing their flights or even having to cancel their travel altogether. Alhamdulillah, this was not the case.
My brothers and I flew on Qatar Airways and happened to be on the same flight as a group of thirty to forty Argentinean fans. These fans were in full voice, singing joyously about former glories and looking forward to the upcoming tournament where Argentina is one of the favourites. It was clear they did not care an iota about the opprobrium levied at Qatar staging the tournament. They wanted to see their beloved Argentina grace the world stage at the pinnacle of football.
Also on the flight was an English man with his wife and baby. The man was wearing the current England top and we exchanged pleasantries as we stood in line, waiting to board. We spoke briefly about the games we would be watching. He, too, did not mention anything about any worries in travelling to Qatar. It didn't seem to be a concern for him.
As we touched down in Doha, the process to get through immigration was okay. The QR code on the Hayya app was not scanning but we had a printed copy just in case, and that worked fine. After going through border control and retrieving our luggage, we were given free SIM cards to use for the duration of the tournament. It came free with 2,022 minutes, texts, and megabytes of data. My brother had a problem with his SIM card, so he went to customer services. The problem was solved in a speedy and professional manner.
Settling into our hotel
It was hot when we landed in Qatar on the morning of the 18th, but we really didn't feel it, as the airport was air-conditioned. However, as soon as I stepped out of the airport, the baking sun hit me. It was already 25 degrees and it wasn't even 9 AM yet. 25 to 30 degrees is a normal summer in the UK, so while it was hot, it shouldn't really be something alien to me.
We took an Uber to our hotel, where we would stay for one night before moving into our flat for the remainder of the stay. My first impressions of Qatar during that drive to the hotel was that the transport system had been modelled on America, with wide highways, and driving on the opposite side of the road to what we are used to in the UK. The lofty lampposts overlooking the roads had Qatar World Cup 2022 regalia all over them. There were also flags of each of the countries participating in the tournament starting with the home nation's colours.
"Something else which stood out was how extraordinarily cheap the Uber fee was. While there is a cost of living crisis raging back home, there are no such concerns here. Even though Sterling is currently very weak, the cab fare was low."
Feeling the adhān through public loudspeakers
We then checked into the hotel and went to our room. After getting settled, we began making preparations to get a physical version of the Hayya card – as doing this would offer ease of access, but also to keep as a memento. We then heard the adhān.
The nearest masjid to us was about a ten-minute walk. I've heard the adhān plenty of times while at the masjid, but it was truly beautiful when it played out on loudspeakers for all to hear. It's not something which is very common in the UK, apart from in a few places.
"I'm hoping that the aesthetically pleasing sounds entice people towards the religion, just as we are being called to salah."
In my next post, I will write about our first night in Qatar, my first experience of the famed Souq Waqif market, and my encounter with some Mexican fans.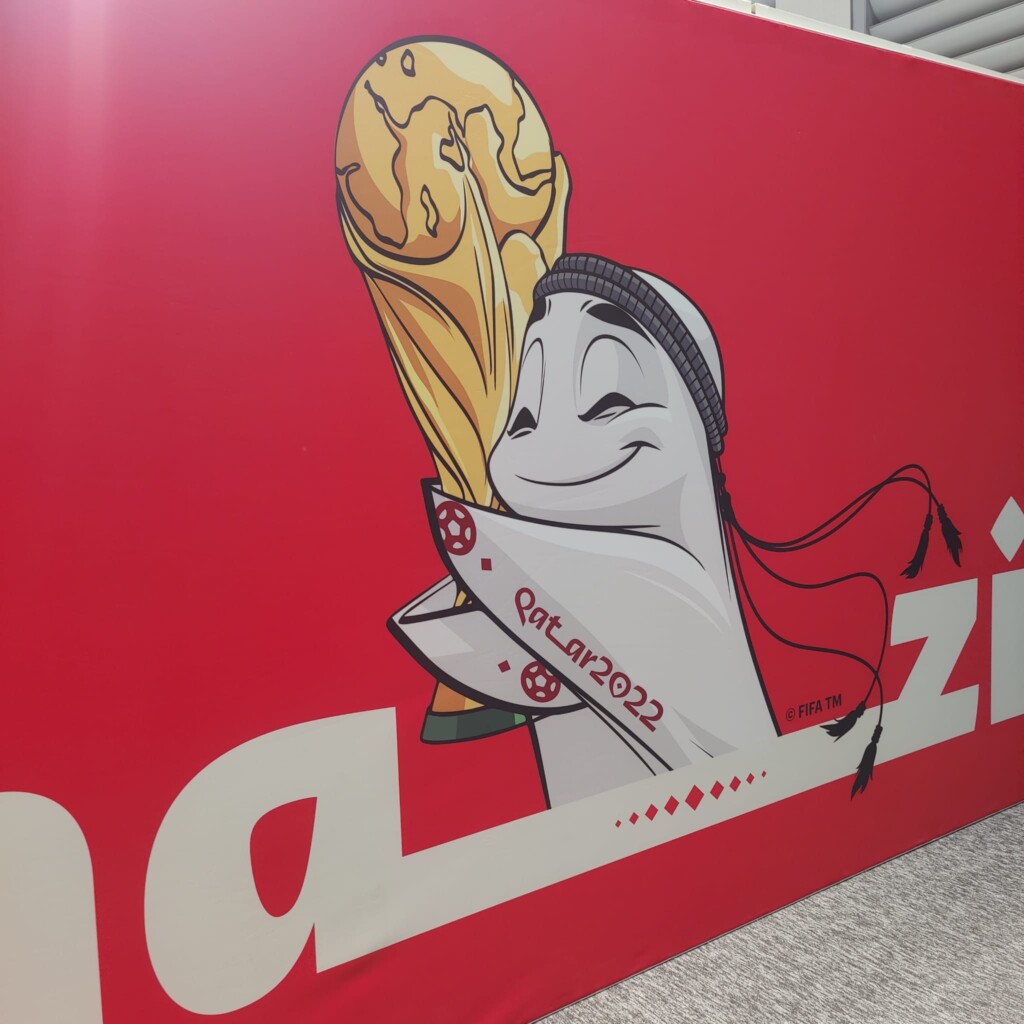 Part 1 | Part 2 | Part 3 | Part 4 | Part 5 | Part 6 | Epilogue
---
Source: Islam21c