Whilst the world focuses on the Charlie Hebdo killings, a far more calamitous chapter of European history is unfolding, writes Dilly Hussain. 
Within 12 hours of the shooting outside the French magazine, Charlie Hebdo's office in Paris, which resulted in the death of 10 journalists and two policemen, #KillAllMuslims started trending on Twitter.
The perpetrators were heard by witnesses shouting "Allahu Akbar" and "Prophet Muhammad has been avenged," in relation to the derogatory cartoons of Prophet Muhammad (saw) published by the controversial weekly magazine.
World leaders, including Prime Minister David Cameron, echoed President Francois Hollande's sentiments in describing Wednesday's shooting as a "barbaric attack on liberty and freedom of speech."
---
---
As expected, many Muslim leaders and organisations that have been "condemning terrorism" since 9/11 went out of their way to do what they do best – to apologise for a crime that had absolutely nothing to do with them. Embarrassingly, many have even jumped onto the #IAmCharlieHebdo bandwagon, forgetting that this was a magazine that published pornographic images of Muhammad (saw).
Continue reading at 5 Pillarz here
---
Reactions to Charlie Hebdo
The Charlie Hebdo shootings have provoked a storm of sensationalist reactions from opportunists across the spectrum. At Islam21c we have been working hard to sift through the rhetoric and find reasoned analysis from all quarters – links are available below to read. Don't forget to like, comment and share! To keep up with the latest articles on Islam21c.com subscribe to our mailing list here
We also direct your attention to the seminal report written by Prof. Arun Kundnani since empirically-refuted connections are being made left, right and centre, between these shootings and the shooters' incidental ideology – read the ground-breaking report that shows that Extremism does NOT cause terrorism: A Decade Lost; Rethinking Radicalisation and Extremism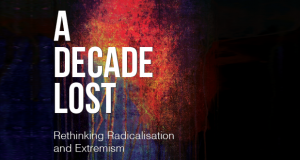 Also read:
Visit our dedicated page to #CharlieHebdo with all our hand-picked content here
---