by Rabbi Michael Lerner
As the editor of a progressive Jewish and interfaith magazine that has often articulated views that have prompted condemnation from both Right and Left, I had good reason to be scared by the murders of fellow journalists in Paris. Having won the 2014 "Magazine of the Year" Award from the Religion Newswriters Association, and having been critical of Hamas' attempts to bomb Israeli cities this past summer (even while being equally critical of Israel's rampage against civilians in Gaza), I have good reason to worry if this prominence raises the chances of being a target for Islamic extremists.
But then again, I had to wonder about the way the massacre in Paris is being depicted and framed by the Western media as a horrendous threat to Western civilization, freedom of speech and freedom of the press, I wondered about the over-heated nature of this description. It didn't take me long to understand how problematic that framing really is.
---
---
When right-wing "pro-Israel" fanatics frequently sent me death threats, physically attacked my house and painted on the gates statements about me being "a Nazi" or "a self-hating Jew," and called in bomb threats to Tikkun, the magazine I edit, there was no attention given to this by the media, no cries of "our civilization depends on freedom of the press" or demands to hunt down those involved (the FBI and police received our complaints, but never reported back to us about what they were doing to protect us or find the assailants).
Continue reading on Huffington Post here
Reactions to Charlie Hebdo
The Charlie Hebdo shootings have provoked a storm of sensationalist reactions from opportunists across the spectrum. At Islam21c we have been working hard to sift through the rhetoric and find reasoned analysis from all quarters – links are available below to read. Don't forget to like, comment and share! To keep up with the latest articles on Islam21c.com subscribe to our mailing list here
We also direct your attention to the seminal report written by Prof. Arun Kundnani since empirically-refuted connections are being made left, right and centre, between these shootings and the shooters' incidental ideology – read the ground-breaking report that shows that Extremism does NOT cause terrorism: A Decade Lost; Rethinking Radicalisation and Extremism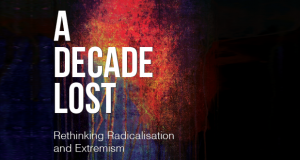 ---
---
Also read:
Visit our dedicated page to #CharlieHebdo with all our hand-picked content here
The views expressed on Islam21c and its connected channels do not necessarily represent the views of the organisation.